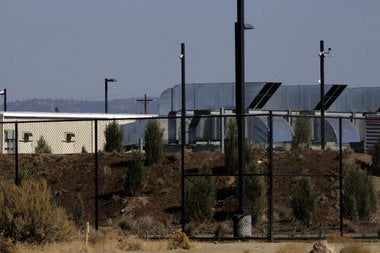 Lunile trecute compania Apple a achizitionat intr-un orasel din Oregon teren indeajuns de mare pentru a construi cateva centre de date pentru sistemele sale. Apple a deschis deja un centru de date modular de peste 3000 m² in respectiva locatie, iar acum a inceput un proiect nou de 68 de milioane de dolari care presupune construirea unei noi cladiri pentru un al doilea centru de date. Proiectul reprezinta doar o parte din investitia pe care compania o va face in respectiva regiune, ea urmand sa construiasca o a doua cladire in viitorul apropiat.
Apple has begun work on the first, $68 million phase of its new Prineville data center, clearing and flattening land for the one of two, 338,000 square-foot buildings atop the bluff that overlooks town… The price tag covers the cost of one building and two "data halls" inside. Plans filed with the city and Crook County last summer call for adding a second building and, eventually, 14 more data halls.
  Deocamdata nu se stie cand anume va termina Apple intregul proiect si pentru ce va folosi aceste centre de date, insa probabil ele vor fi utilizate pentru iCloud si alte sisteme online pe care Apple le ofera.