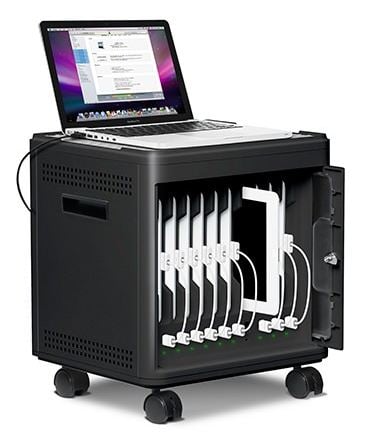 iLuv MultiCharge-X este un produs prezentat la CES 2013 saptamana aceasta, iar cu ajutorul sau pot fi incarcate pana la 10 tablete iPad simultan fara prea mult efort. Unitatea celor de la iLuv permite incarcarea tabetelor folosind o sursa de curent normala, insa partea interesanta este ca un MacBook Pro poate fi utilizat drept sursa de curent. MultiCharge-X poate fi combinat in mai multe unitati si pana la 30 de tablete iPad pot fi incarcate simultan, aparent utilizand curent furnizat de acelasi MacBook Pro.
Quick charge up to 10 iPad devices simultaneously with MultiCharger-X, a simple solution for schools and businesses that deploy iPad as a workplace tool. Sleek and compact, the MultiCharger-X has handles and stacking grooves for portability. The unit also features a locking door to protect your iPad devices, and LED lights that indicate when each of device has finished charging. The daisy-chain feature even allows you to link MultiCharger-X to two additional units to sync up to 30 devices with a single MacBook. A time-saving, hassle-free device, the MultiCharger-X allows users to sync data, menus and updates across multiple iPad devices simultaneously, making it an ideal tool to help you manage your high-tech investments.
  iLuv MultiCharge-X este gandit special pentru a fi utilizat in scoli, sau alte institutii in care exista un numar mare de anagajati sau vizitatori, iar pretul de pornire de 800$ denota cat se poate de clar acest lucru.