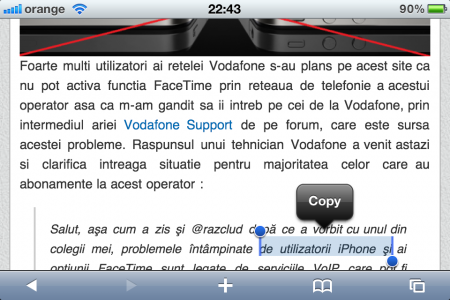 Daca ati folosit functia copy/paste din iOS atunci cu siguranta ati observat ca exista un mic delay intre apasarea butonului si indeplinirea actiunii respective. comex sustine ca Apple a introdus un delay pentru indeplinrea functiei dupa apasarea butonului si micul sau tweak scoate acest delay si efectueaza functia pe loc. Am testat-o putin si intr-adevar parca intregul proces e ceva mai rapid, insa nu extraordinar de rapid, insa diferenta este cu siguranta sesizabila. Iata descrierea oficiala a aplicatiei :
The editing menu (copy, paste select all etc.) always seem to lag for a moment with the button you pressed highlighted before actually performing the action. This is actually just a delay; this tweak removes it, making copying and pasting feel much snappier.
Tweak-ul este disponibil gratuit in Cydia deci il puteti testa chiar daca vi se pare destul de ciudata ideea in sine. Eu l-am instalat si nu ma gandesc sa il scot prea curand pentru ca imi da impresia ca copy/paste-ul merge asa cum ar trebui defapt sa mearga.