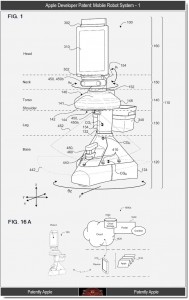 Inginerii companiei Apple lucreaza constat la dezvoltarea unor lucruri cat se poate de interesante pentru clientii companiei si un brevet de inventie recent publicat denota interesul in constructia unor roboti controlati cu tablete iPad. Imaginea de mai sus prezinta creatia inginerilor companiei Apple si vorbim despre un robot care este destinat in principal mediului medical. Intreaga constructie are in partea de sus o tableta iPad care probabil ar afisa doctorilor si pacientilor tot felul de informatii interesante si utile insa nu trebuie sa uitam ca vorbim doar despre un brevet de inventie.
iRobot's introductory abstract describes the invention this way: "A robot system includes a mobile robot having a controller executing a control system for controlling operation of the robot, a cloud computing service in communication with the controller of the robot, and a remote computing device in communication with the cloud computing service. The remote computing device communicates with the robot through the cloud computing service."
    Majoritatea inventiilor publicate si inregistrate companiei Apple nu ajung pe piata si nu vad de ce acest "iRobot" ar fi diferit din vreun punct de vedere. Nu este prima oara cand angajatii companiei deseneaza produse care nu sunt lansate pe piata si ceea ce vedem mai sus ar putea fi doaro faza incipienta a unui proiect mult mai complex.