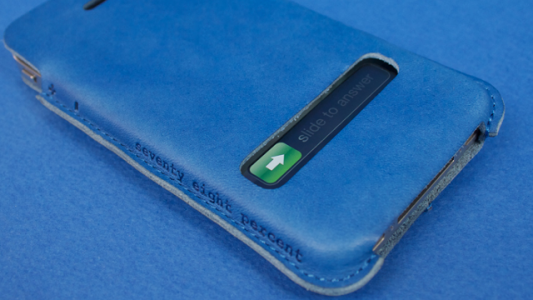 Gadi este o husa pentru iPhone care are o functionalitate destul de interesanta. Ea are o taietura in portiunea in care apare butonul de deblocare a terminalului si raspundere la apeluri, iar cu ajutorul ei puteti raspunde rapid la telefon fara a scoate terminalul din Husa. Accesoriul are o taietura in dreptul difuzorului si are marcate butoanele de volum, insa din pacate nu va si arata cine va suna, deci va trebui sa raspundeti fara sa stiti cine se afla la cealalta parte a receptorului. Husa este ciudata si interesanta in acelasi timp, dar la 110$ nu cred ca va atrage prea multi cumparatori.
Gadi is a beautiful, hand-crafted case, tailored for the iPhone 4. It is made from 100% vegetable-tanned leather that ages beautifully. It is designed to allow answering calls without having to remove the case. Just slide and answer. 

Note that Gadi is tightly tailored around the iPhone and will take a couple of weeks to streach to its best fit. 

Gadi, our full leather iPhone case is inspired by Ned Kelly, an Irish Australian bushranger, who used to wear a home-made plate-metal helmet with a narrow horizontal slot for his eyes (Ned, our iPhone 3 case was named after Ned Kelly). Ned, considered a cold-blooded killer by some and a folk hero by others, was a symbol of Irish-Australian resistance against the British ruling class oppression. On June 1880, Ned was eventually captured and hanged for murder. His daring and notoriety made him an iconic figure in Australian history, folk lore, literature, art and film.
Fits the iPhone 4
Slide-n-Answer slot allows answering incoming calls with the phone in its case
Vibrate and volume buttons are easily accessible
An open slot allows quick access to charge and sync port