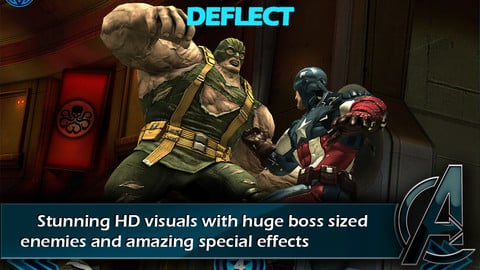 Inaintea sarbatorii Craciunului, si a inchierii iTunes Connect-ului, Apple a ales Avengers Initiative drept aplicatia gratuita a saptamanii. Timp de o saptamana acesta aplicatia va fi disponibila gratuit in App Store, ea este universala, deci o veti putea utiliza pe oricare dintre terminalele voastre fara probleme. Aplicatia a fost dezvoltata special pentru filmul The Avengers, ea descrie o parte din actiune si va da posibilitatea de a controla unele personaje din pelicula, deci daca ati vazut filmul probabil veti iubi jocul.
Visceral Combat
Experience raw, SUPER-POWERED COMBAT with blazingly responsive swipe, attack, and combo controls in a complete gesture based action game.

Stunning HD Visuals
Battle huge BOSS-SIZED enemies, experience amazing special effects, and visit incredible and icon Marvel locations.

Unique Customization
FULLY CUSTOMIZE Hulk and Captain America to play the way you want to play. Acquire exclusive costumes, unlock incredible super-powered abilities, discover explosive augmentations, and upgrade the combat stats of Hulk and Captain America.

EPISODIC CONTENT
Marvel's CROSS-OVER MOBILE GAMING EVENT continues with updates, scheduled events, and anticipated character reveals, setting a new standard for mobile gaming. 

Marvel XP
Marvel XP is now featured in Avengers Initiative and newly optimized for touch screen devices! Marvel XP is a FREE LIVE SERVICE that TRACKS YOUR PROGRESS, REWARDS YOUR ACHIEVEMENTS, and helps you experience Marvel on a whole new level across multiple games, including Avengers Alliance on Facebook. REGISTER NOW to unlock awards, character dossiers, and other bonus content exclusive to the Marvel XP community.
Nume:
Avengers Initiative
---
Developer: Marvel Entertainment
Universala
Categoria: Games
Descriere: A big congratulations to Avengers Initiative for winning IGN People's Choice Award!! To celebrate this proud achievement, the app is now FREE!!! Limited time only!
A WiFi connection is highly recommended for faster download.
Due to the size of the game…
Dimensiunea aplicatiei este: 1580.3 Mb
---