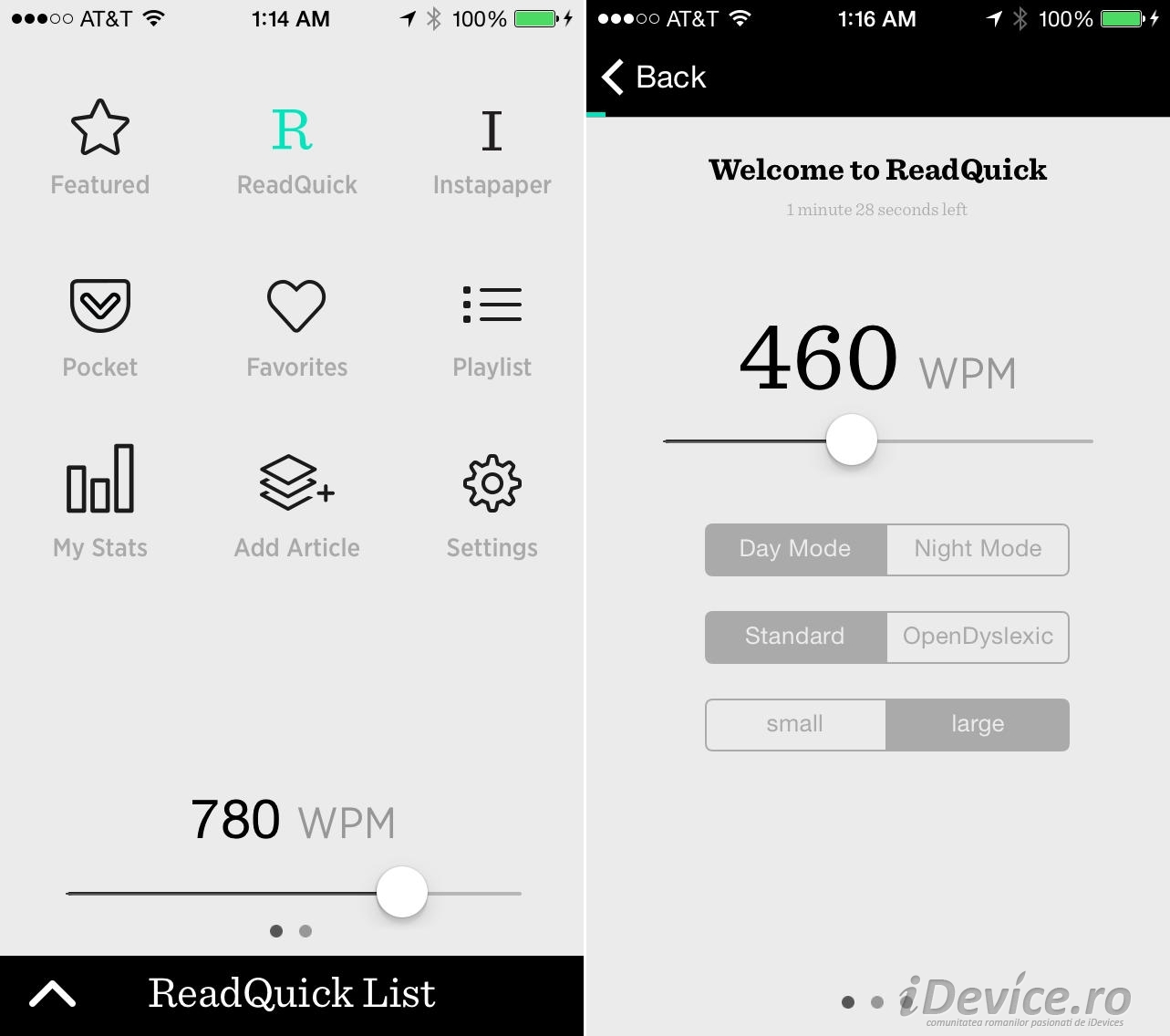 Este vineri si, ca de obicei in ultimele luni de zile, compania Apple si-a actualizat promotiile disponibile in App Store, astfel ca avem un nou titlu disponibil gratuit pana vinerea viitoare in cadrul campaniei aplicatia gratuita a saptamanii.  Pentru urmatoarele 7 zile, compania Apple promoveaza aplicatia Read Quick – Speed Reader for iOS, un titlu care ne ajuta sa citim mai repede orice fel de carti sau documente.
The world's best speed reading app. ReadQuick helps you read faster than ever before. Designed for iOS 7, this app helps you speed read your way through your Pocket, Instapaper and Readability reading lists. Watch your comprehension sky rocket in just one day. ReadQuick displays the articles of your choice one word at a time at a pace you set. It is the only app that teaches you how to speed read while getting through your daily reading.
  In baza unui algoritm special conceput de catre dezvoltatorii aplicatiei, Read Quick – Speed Reader ne poate ajuta sa invatam sa citim mai repede prin modul in care sunt prezentate informatiile in ea. Aplicatia are implementat suport pentru o multitudine de feed reader, asa ca veti avea ocazia de a citi zilnic informatiile preferate intr-un ritm stabilit de catre voi si imbunatatit de-a lungul timpului de catre aplicatie.
You can access articles you want to read through our partners like Pocket or find them yourself through the built-in Web browser. You can also choose to read think pieces suggested by our great content partners such as Macworld, Talking Points Memo, Longreads, TechMeme, GigaOm and more. ReadQuick will tell you how long each article will take you to complete based on your words per minute rate.
  Read Quick – Speed Reader este disponibila GRATUIT in App Store in cursul saptamanii urmatoare.
Numele:
ReadQuick – Speed Reader for iOS
---
Developer: Action Now Limited
Categoria: Productivity
Descriere: The world's best speed reading app. ReadQuick helps you read faster than ever before. Designed for iOS 7, this app helps you speed read your way through your Pocket, Instapaper and Readability reading list…
Dimensiunea aplicatiei este: 20.5 Mb
---