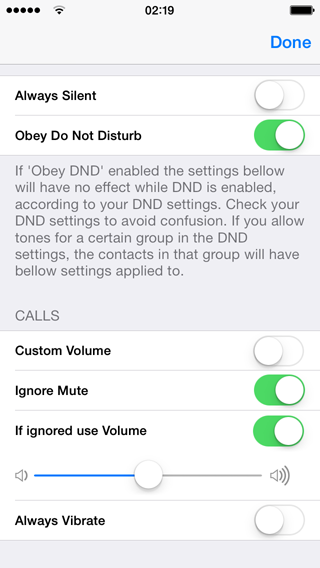 Ringer & Tones este versiunea pentru iOS 7 a tweak-ului Ringer X VIP, iar cu ajutorul sau putem personaliza tonurile de apel si a vibratiilor pentru aplicatii, apeluri mesaje si nu numai. Tweak-ul ne permite sa selectam cate un ton de apel/vibratie pentru fiecare contact/aplicatie a iOS 7, ne permite sa alegem daca aceste contacte/aplicatii vor rula un ton de apel sau doar vor vibra, totul putand fi personalizat printr-un meniu de setari. Tweak-ul functioneaza cu ajutorul Activator si permite activarea/dezactivarea unor functii folosind gesturi, totul fiind utilizabil prin interfata iOS-ului.
Customizes ringing and vibration behavious for <strong>apps (notifications), calls, text messages, MMSs, Emails and iMessages on a contact/app basis. You decide for which contact or app your device should ring and/or vibrate as well as choose tones and create/assign new vibrations.  Includes an Activator-enabled Temporary Mute feature. Mute your iPhone for a defined period of time after which all tones will turned back on again. Never forget to re-enable the ringer after a meeting or going to the movies. Ringer & Tunes is very powerful and also extends Apple's 'Do Not Disturb' feature.
  Majoritatea functiilor disponibile prin Ringer & Tones pot fi utilizate nativ in iOS 7 intr-un mod limitat, iar un alt weak cu functionalitate identica sau apropiata nu exista in Cydia. Ringer & Tones este disponibil in repo-ul BigBoss al Cydia si este compatibil cu Pangu jailbreak.