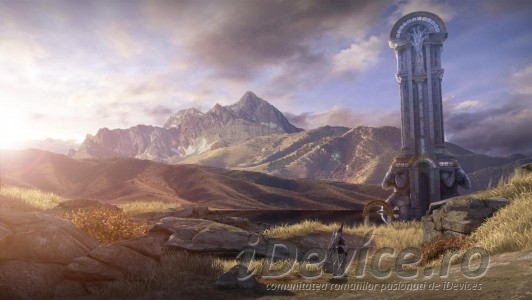 Infinity Blade I, Infinity Blade II si Infinity Blade III, toate cele trei jocuri dezvoltate de catre Chair Entertainment in baza motorului grafic Unreal Engine, sunt disponibile la PRET REDUS in zilele urmatoare in App Store. Totul este organizat in ideea de a celebra ziua Americii, care se sarbatoreste maine in SUA, deci veti putea cumpara aplicatiile la REDUCERE pe parcursul urmatorului weekend.
  Reducerile sunt de MINIM 50% in cazul tuturor celor trei jocuri, asa ca daca inca nu le-ati achizitionat, nu aveti motive sa evitati on continuare sa o faceti deoarece nu se stie cand le veti mai gasi la un asemenea pret.
---

Nume:
Infinity Blade
---
Developer: Chair Entertainme…
Universala
Categoria: Games
Descriere: Winner of the 2011 Apple Design Award, and more than 20 Game of the Year & Top App awards! Tons of NEW FREE CONTENT available now! See below for more details.
From Epic Games award-winning studio, ChAIR Entertainment, comes Infinity Blade, a new sword…
Dimensiunea aplicatiei este: 595.2 Mb
---
---
Nume:
Infinity Blade II
---
Developer: Chair Entertainme…
Universala
Categoria: Games
Descriere: **2011 IGN "Mobile Game of the Year"**
**2012 AIAS "Mobile Game of the Year"**
**Winner of the IMGA "Excellence in Gameplay" and "Grand Prix" Awards**
**Entertainment Weekly's "Top 10 Video Games of 2011″**
**15 Perfect Scores and more than 20 Game of the…
Dimensiunea aplicatiei este: 1053.0 Mb
---
Nume:
Infinity Blade III
---
Developer: Chair Entertainme…
Universala
Categoria: Games
Descriere: What the press is saying about Infinity Blade III:
**USA TODAY: 4 out of 4 – "Another fantastic epic!"
**TOUCH ARCADE: 5 out of 5 – "ChAIR raises graphical bar to low earth orbit"
**IGN: "A gorgeous, intense, and rewarding adventure!"
**MODOJO: "The bi…
Dimensiunea aplicatiei este: 1731.4 Mb
---