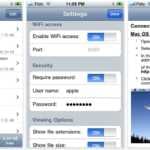 mbDrive este cea mai nou aplicatie din domeniul file storage-ului pentru iPhone/iPod Touch, permitand transformarea acestora intr-un adevarat USB Stick ce poate fi accesat prin intermediul WiFi-ului de la orice calculator.
Aplicatia permite stocarea oricaror tipuri de fisiere, practic nu exista nici un fel de limitare din acest punct de vedere, singura limita ar putea fi spatiul de stocare disponibil in telefon si desigur existenta unui router/placa de retea wireless la care sa puteti conecta telefonul. Defapt aici este toata problema, nu gasesti oriunde un router/placa de retea wireless si cred eu ca mult mai buna ar fi fost o aplicatie care sa permita transformarea terminalului Apple intr-un USB Stick care sa poata fi accesat prin intermediul USB-ului si nu a unei conexiuni wireless.
Desi aceasta aplicatie este foarte simpla si usor de folosit, nu e singura insa partea buna a acestei aplicatii este ca are si o versiune Lite care poate fi downloadata si folosita gratuit.
Iata lista de features :
1. High performance WebDav server provides fast and easy file transfer.
2. Compatible with OS X 10.5 and above, WinXP, Vista and Windows 7.
3. Supports typical file/folder transfer operations from connected computer. Fuctions include:
* Create new folder.
* Delete/rename files and folders.
* Using drag-and-drop to copy files/folders between iPhone/iPod Touch and computer.
* Cut, copy and paste files and folders.
4. Can download the files from iPhone/iPod touch using web browser.
5. Views or plays the document/media file stored in mbDrive. Supported file formats:
*Microsoft office documents
*PDF files
*iWork documents
*Safari Web Archives
*Web pages .htm .html
*Text files
*Image files .png .jpg, .jpeg, .gif .tiff
*Video files .mp4 .mov
*Audio files .mp3 .aac
6. Supports landscape orientation.
7. File sorting options which make it easy to locate specific files.
Versiunea full a mbDrive costa 1.59€ si poate fi cumparata din Ro AppStore de aici, cea Lite poate fi downloadata gratuit de aici.