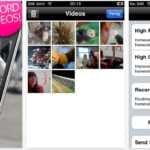 Odata cu "admiterea" din partea celor de la Apple ca iPhone 2G/3G sunt capabile sa filmeze video cu ajutorul camerelor incorporate, aplicatiile oficiale care sa permit acest lucru au inceput sa apara pe banda rulanta, una mai buna decat cealalta insa toate limitate sub performantele celei de pe iPhone 3GS, for marketing reasons desigur.
iCamCorder este una dintre aceste aplicatii si desi a inceput cam greu cursa cu celelalte, odata cu noul update 1.7 le-a ajuns mult din urma, ba chiar a trecut in fata catorva crescand rata de filmare, aducand posibilitatea de a face zoom sau de a adauga efecte filmelor deja facute.
Iata lista completa de noutati :
The effect Quad-cam that lets you record in the four corners of the screen
The effect Mirror, to get the immgini "mirrored"
New effect "Pop-Art" which acts directly on colors
Been improved performance because the application is now much faster
Also improved synchronization between audio and video
Adding an icon that allows you to share videos on the most popular social network
Added a progress bar for upload
Added a button that will let us know when we have activated some effect and when recording is in its original format
Added share on Twitter
Added share on the 3G network as well as WiFi
Added the preview images in the video section to understand more quickly that video is
Added the ability to export experimental videos in the library!
Fixed other bugs
Daca ai un iPhone 2G/3G atunci ar fi o idee buna sa incerci aceasta aplicatie. Poate fi cumparata contra 0.79€ din Ro AppStore de aici.