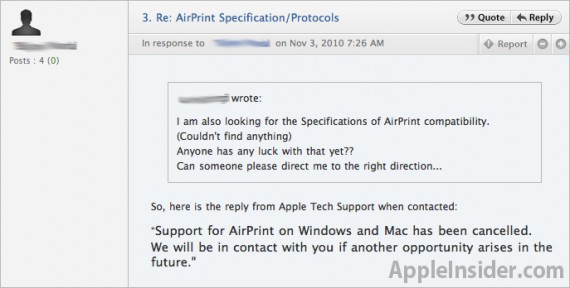 Una dintre cele mai interesante functii pentru iOS 4.2 era AirPrint care in esenta ne dadea posibilitatea de a printa pagini web/poze/etc de pe iDevices prin wireless folosind un Mac/PC si o imprimanta compatibila. Toate versiunile beta ale iOS 4.2 au avut aceasta functie activata sid estul de multi utilizatori au reusit sa se foloseasca de ea pentru a printa, insa iata ca acum, la doar cateva zile inaintea lansarii oficiale a iOS 4.2 Apple s-a decis sa suspende pe termen nelimitat posibilitatea de a folosi aceasta functie. Motivatia aceste suspendari sta in descoperirea recenta a unor buguri care afectau modul in care AirPrint functiona asa ca Apple pare a se fi decis sa suspende posibilitatea de a folosi AirPrint pentru a nu risca un nou scandal pe aceasta tema.
We have been told from a few Mac developers that a few days ago Apple removed all the references to printing via OS X 10.6.5 and PCs both from Readme files and other online documentation posted in the iOS developer center. It seems like all that's now mentioned in the release notes are the aforementioned HP networked printers, as if the shared printing option never existed.
Apple a scos referirile privitoare la AirPrint din site-ul dedicat developerilor de aplicatii iar un reprezentant al companiei a precizat ca aceasta functie a fost suspendata pe termen nelimitat.
So, here is the reply from Apple Tech Support when contacted:

"Support for AirPrint on Windows and Mac has been cancelled. We will be in contact with you if another opportunity arises in the future."
Deocamdata nu e 100% sigur ce se intampla cu AirPrint insa se pare ca Apple va scoate din iOS 4.2 una dintre cele mai asteptate functii.