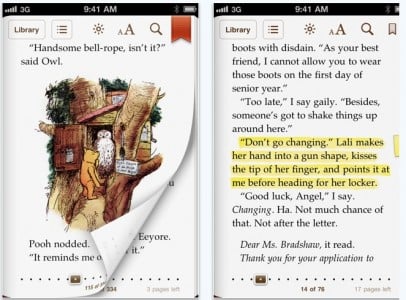 iBooks, aplicatia pentru iPad/iPhone si iPod Touch care ne permite sa descarcam si sa vizualizam opere literare din iTunes Store-ul celor de la Apple, a fost actualizata aseara ajungand la versiunea 1.2. Inainte sa faceti update va avertizez ca unele persoane au raportat probleme cu PDF-urile dupa acest update, mai exact fisierele PDF refuzau sa se mai deschida. iBooks 1.2 aduce 2 lucruri foarte importante : posibilitatea de a organiza cartile pe colectii dar si posibilitatea de a trimite fisiere PDF prin e-mail sau de a le scoate la imprimanta folosind AirPrint.
Iata intreaga lista de noutati :
Experience fully illustrated books, from children's picture books to beautifully designed art books, available for download in the iBookstore.
Organize your books and PDFs into personal Collections. Swipe left or right to jump between Collections.
Print PDF documents and notes you've written in iBooks using AirPrint.
iBooks now fits more words per page by automatically hyphenating text, available only on iOS 4.2 or later.
Descriere: iBooks is an amazing way to download and read books. iBooks includes the iBookstore, where you can download the latest best-selling books or your favorite classics day ornight. Browse your library on a be…
Dimensiunea aplicatiei este: 15.2 Mb
---