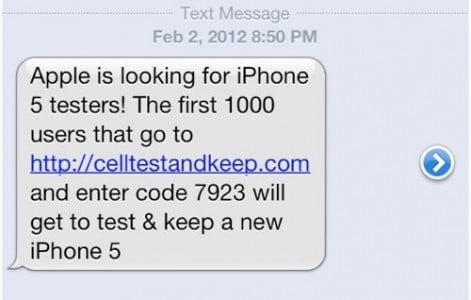 Desi iPhone 5 este inca departe de o lansare oficiala, se pare ca in ultimele saptamani un mesaj de tip spam a facut inconjurul globului si el ii atentiona pe utilizatori in legatura cu o sesiune de beta tesing pe care Apple ar face-o pentru iPhone 5. Cei care habar nu au cum lucreaza Apple au crezut probabil va vor vedea inaintea multora cum va arata iPhone 5 insa in realitate totul este doar o pacaleala facuta in ideea de a genera trafic pentru cateva website-uri care nu au vreo legatura cu iPhone 5 sau Apple.
I received this message today. Apple needs iPhone5 testers:The first 1000 users who visit http://celltestnkeep.com and enter code 1000 will get to test & keep the new iPhone5. Is Apple aware of this? The phone number was 703-609-7910. I already contacted my provider (AT&T) and they said to inform Apple. I found other customers experiencing this as well while doing a search on the internet.
  Problema a ajuns sa fie cunoscuta prin intermediul forumului de discutii al companiei Apple insa si reprezentantii companiei au aflat despre campania de "promovare" a iPhone 5 dar ea nu are legatura cu Apple. Daca vedeti mesajul acesta pe undeva este bine sa stiti ca el este complet fals.