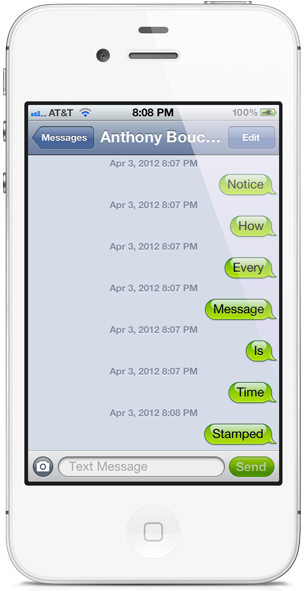 SMS TimeStamps este un tweak lansat recent in Cydia care permite posesorilor de terminale iPhone sa afiseze in aplicatia Message ora si data la care au trimis mesajele SMS. In mod normal aplicatia Messages afiseaza acest lucru numai pentru primul SMS dintr-o conversatie deci daca trimiteti mai multe mesaje unei persoane la o scurta perioada de timp nu veti vedea un timestamp pentru fiecare in parte. Tweak-ul are un meniu de setari in aplicatia Settings a iOS iar de acolo il puteti activa/dezactiva si puteti alege perioada de timp care trebuie sa treaca pentru a va afisa timestamp-uri.
SMS Timestamps provides a way to modify the Messages app's default behavior of setting timestamps on the beginning of an active conversation, and then ceasing to do it until it deems it necessary again. With SMS Timestamps you can set this behavior manually so that you can see timestamps on ALL of your messages, or after a certain period of time has elapsed after a timestamp has been displayed (1 minute, 5 minutes, 10 minutes).
  SMS TimeStamps este disponibil gratuit in Cydia si functioneaza chiar si cu sistemul iMessage.