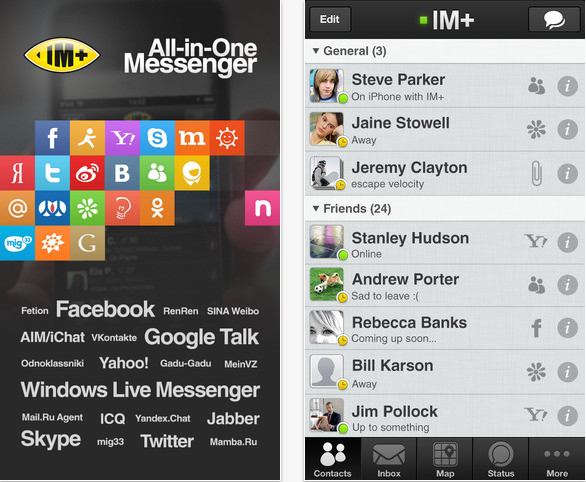 IM+ Pro este una dintre cele mai complete aplicatii prin intermediul careia puteti administra conturile reletelelor de socializare, ea avand implementata compatibilitate pentru cateva zeci de retele sociale de pe intregul glob. De la Facebook la AIM, Google Talk, Windows Live Messenger, Yahoo! Messenger, Twitter, Skype, ICQ, Jabber sau Yandex Chat, aplicatia va pune la dispozitie tot ceea ce aveti nevoie pentru a conversa rapid cu prietenii vostri. Pentru ca aplicatia este foarte populara, si probabil pentru ca recent ea a devenit compatibila si cu Angry Birds, dezvoltatorii sai s-au gandit sa o ofere la pret promotional pentru perioada urmatoare.
Chat on Skype, Facebook, Google Talk, Twitter and more. IM+ features free texting, Off-the-Record messaging as in-app purchase, group chats, message history. IM+ Pro has all your messaging needs covered, regardless of whether you want to stay in touch with your IM contacts or socialize with people around you with Neighbors geo-social network. IM+ Pro supports all major IM services, including Facebook, Skype, MSN/Live Messenger, Google Talk, Yahoo!, AIM/iChat, ICQ, Jabber, MeinVZ, Gadu-Gadu, SINA Weibo, mig33, VKontakte, Odnoklassniki.ru, Mamba.Ru, Fetion, Yandex IM, Mail.Ru Agent and RenRen. We thought you might want to check up on Twitter while messaging, so we added support for it, too.
  Nu se stie deocamdata pentru ce perioada de timp veti putea achizitiona IM+ Pro la pret promotional, asa ca va recomand sa va grabiti cu achizitia.
Numele:
IM+ Pro
---
Developer: SHAPE GmbH
Universala
Categoria: Social Networking
Descriere: Chat on Skype, Facebook, Google Talk, Twitter and more. IM+ features free texting, Off-the-Record messaging as in-app purchase, group chats, message history.
IM+ Pro has all your messaging needs covered, r…
Dimensiunea aplicatiei este: 25.8 Mb
---