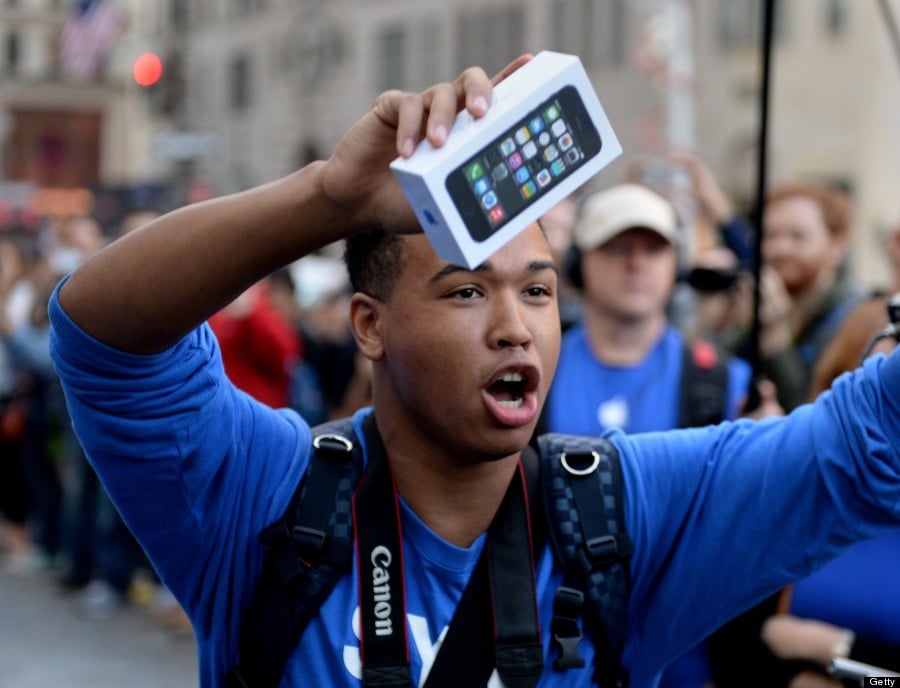 Vinerea trecuta Apple a lansat iPhone 5S si iPhone 5C, la doar doua zile dupa ce iOS 7 a fost oferit tuturor posesorilor de iDevice-uri, iar astazi compania a publicat primele cifre de vanzari pentru cele doua terminale in cele 3 zile de disponibilitate. 9 milioane de terminale iPhone au fost vandute de catre Apple in cele 10 tari in ultimele 3 zile, weekend-ul lansarii, cifra reprezentand un nou record de vanzari pentru compania americana. Desi iPhone 5C a fost disponibil pentru precomanda timp de mai bine de o saptamana inaintea lansarii, iPhone 5S a fost terminalul asteptat de majoritatea clientilor Apple, terminalul fiind disponibil pentru precomanda in China cu doar 3 zile inaintea lansarii.
"This is our best iPhone launch yet―more than nine million new iPhones sold―a new record for first weekend sales," said Tim Cook, Apple's CEO. "The demand for the new iPhones has been incredible, and while we've sold out of our initial supply of iPhone 5s, stores continue to receive new iPhone shipments regularly. We appreciate everyone's patience and are working hard to build enough new iPhones for everyone."
  Anul trecut compania Apple a comercializat 5 milioane de terminale iPhone 5 in weekend-ul lansarii, deci vorbim despre aproape o dublare a numarului de terminale vandute, cresterea fiind colosala. Apple demonstreaza an dupa an ca are din ce in ce mai multi clienti fideli. Daca va intrebati ce model a fost cel mai achizitionat, ei bine versiunea aurie a iPhone 5S s-a dovedit a fi cea mai populara dintre toate, 80% dintre iPhone 5S-urile produse de catre Apple fiind space grey. Acestea fiind spuse, Apple a demonstrat din nou ca este capabila sa atraga clienti si asta in ciuda faptului ca este atacata de toti competitorii si copiata de parteneri.
  Separat de aceste informatii, Apple a anuntat ca 200 de milioane de iDevice-uri ruleaza deja noul iOS 7, rata neoficiala de adoptie fiind de peste 50% in cazul tuturor terminalelor. Mai mult decat atat, iTunes Radio are 11 milioane de utilizatori activi in momentul de fata, compania Apple afirmand ca Hold On, meldoia We're Going Home interpretata de catre Drake este cea mai ascultata de catre utilizatori.
First Weekend iPhone Sales Top Nine Million, Sets New Record

CUPERTINO, California―September 23, 2013―Apple® today announced it has sold a record-breaking nine million new iPhone® 5s and iPhone 5c models, just three days after the launch of the new iPhones on September 20. In addition, more than 200 million iOS devices are now running the completely redesigned iOS 7, making it the fastest software upgrade in history. Both iPhone 5s and iPhone 5c are available in the US, Australia, Canada, China, France, Germany, Hong Kong, Japan, Puerto Rico, Singapore and the UK. Demand for iPhone 5s has exceeded the initial supply, and many online orders are scheduled to be shipped in the coming weeks.

"This is our best iPhone launch yet―more than nine million new iPhones sold―a new record for first weekend sales," said Tim Cook, Apple's CEO. "The demand for the new iPhones has been incredible, and while we've sold out of our initial supply of iPhone 5s, stores continue to receive new iPhone shipments regularly. We appreciate everyone's patience and are working hard to build enough new iPhones for everyone."

iPhone 5s redefines the best smartphone experience in the world with amazing new features all packed into a remarkable thin and light design, including the Apple-designed A7 64-bit chip, all-new 8 megapixel iSight® camera with True Tone flash and introducing Touch ID™, an innovative way to simply and securely unlock your phone with just the touch of a finger. iPhone 5c features an all-new design, packed with features users know and love like the beautiful 4-inch Retina® display, blazing fast performance of the A6 chip, and the 8 megapixel iSight camera—all while delivering great battery life.¹ iPhone 5s and iPhone 5c both offer more LTE bands² than any other smartphone in the world and include all-new FaceTime® HD cameras.

iPhone 5s and iPhone 5c feature iOS 7, the most significant iOS update since the original iPhone, featuring a stunning new user interface, completely redesigned with an elegant color palette, distinct, functional layers and subtle motion that make it feel more alive. iOS 7 has hundreds of great new features, including Control Center, Notification Center, improved Multitasking, AirDrop®, enhanced Photos, Safari®, Siri® and introduces iTunes Radio℠, a free Internet radio service based on the music you listen to on iTunes®.³ Over 11 million unique listeners have already tuned in to iTunes Radio since launch with the most listened to song being "Hold On, We're Going Home" by Drake. 

Every customer who buys an iPhone 5s or iPhone 5c at an Apple retail store will be offered free Personal Setup service, helping them customize their iPhone by setting up email, showing them new apps from the App Store℠ and more, so they'll be up and running with their new iPhone before they leave the store. Customers can learn more about iOS 7 and their new device through new free workshops at all Apple retail stores worldwide. In the US, the new iPhones are available through AT&T, Sprint, T-Mobile, Verizon Wireless, select Best Buy, RadioShack, Target and Walmart stores and Apple Authorized Resellers.

Pricing & Availability
iPhone 5s comes in gold, silver or space gray, and is available in the US for a suggested retail price of $199 (US) for the 16GB model and $299 (US) for the 32GB model and $399 (US) for the 64GB model.⁴ iPhone 5c comes in blue, green, pink, yellow and white and is available in the US for a suggested retail price of $99 (US) for the 16GB model and $199 (US) for the 32GB model.⁴ iPhone 5s cases are available in beige, black, blue, brown, yellow and (RED) for a suggested retail price of $39 (US) through the Apple Online Store(www.apple.com), Apple's retail stores and select Authorized Apple Resellers. iPhone 5c cases are available in blue, green, pink, yellow, black and white for a suggested retail price of $29 (US) through the Apple Online Store (www.apple.com), Apple's retail stores and select Authorized Apple Resellers. iPhone 4s is also available for free (US) with a two-year contract.⁴