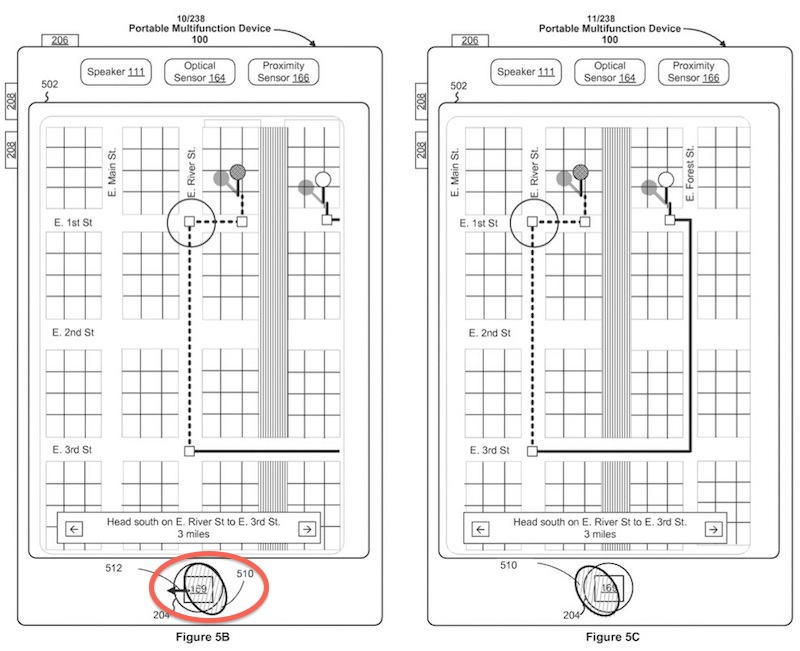 Sistemul Touch ID al iPhone 5S ne permite sa utilizam aprentele degetelor, si alte parti ale corpului, pentru a ne debloca terminalele si a autoriza plati prin iTunes, insa Apple se gandeste ca poate oferi o functionalitate complet diferita prin el. Conform unei cereri pentru inregistrarea unui brevet de inventie, Apple ar putea oferi butonului Home functionalitatea unui adevarat trackpad, sistemul Touch ID stand la baza sa. Cererea descrie o modalitate prin care utilizatorii ar putea controla modul de vizualizare al unei harti sau ar putea activa task switcher-ul din iOS prin simple miscari ale degetului pe butonul Home, aceste lucruri fiind imposibil de realizat altundeva in afara ecranului.
This third patent application is the most revealing yet with regard to Touch ID, showing how Apple has envisioned expanding the feature to incorporate trackpad functionalities, tracking movements of a user's finger or thumb over the sensor to navigate through user interfaces on the device's screen. In one example, Apple shows how a user moving his or her finger right to left across the Touch ID home button could pan a map, with a subsequent upward movement across the home button triggering activation of a multitasking interface.
  Mai mult decat atat, compania Apple poate permite utilizarea unor gesturi facute pe buton pentru a initia diverse actiuni in iOS, insa in acelasi timp ar putea detecta apasarile de diverse durate si ar putea permite controlarea anumitor componente ale sistemului de operare. Separat de butonul Home, Apple ar putea integra Touch ID direct in ecran si ar putea permite citirea amprentelor prin atingerea ecranului, acest lucru putandu-i oferi optiunea de a creste dimensiunile ecranului prin renuntarea la butonul Home.
Other examples show how users could take advantage of "revolving" or "twisting" motions of their fingerprints on the Touch ID home button to initiate actions. Moving beyond the home button, Apple addresses the possibility of integrating Touch ID right into a device's display, allowing any area of the screen to be dynamically designated as a sensing region for the user's fingerprint. In one example, the area of a display representing the device's email app could require a valid fingerprint touching the icon in order for authorization to be granted. 
  In documentul de peste 600 de pagini Apple descrie diverse metode prin care iDevice-urile sale ar putea avea parte de functii pe care le-am vazut pana acum prezentate doar in concepte, insa pana acum n-am vazut nimic real prezentat in vreun produs.