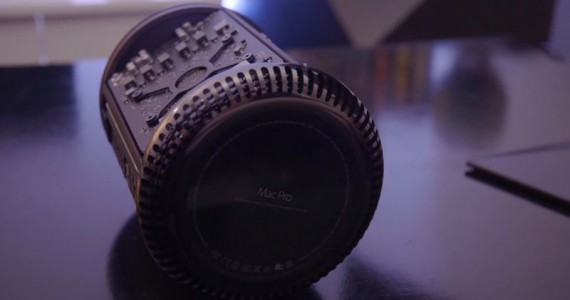 Desi Mac Pro 2013 a fost promovat de catre Apple ca un produs care poate fi utilizat doar cand se afla in pozitie verticala, probabil putini vor fi mirati sa afle ca el functioneaza si in pozitie orizontala. Intr-un document de suport publicat de catre compania Apple, americanii sustin ca utilizatorii pot amplasata noul Mac Pro in pozitie orizontala si il pot utiliza fara probleme atat timp cat se asigura ca sistemul de racide nu este blocat. Mai mult detalii sunt disponibile in acesta pagina.
Although the Mac Pro (Late 2013) is designed to operate in an upright position, you can also use it on its side.

The Mac Pro (2013) has a fan system capable of cooling the computer in a vertical or horizontal orientation as long as you follow these guidelines.