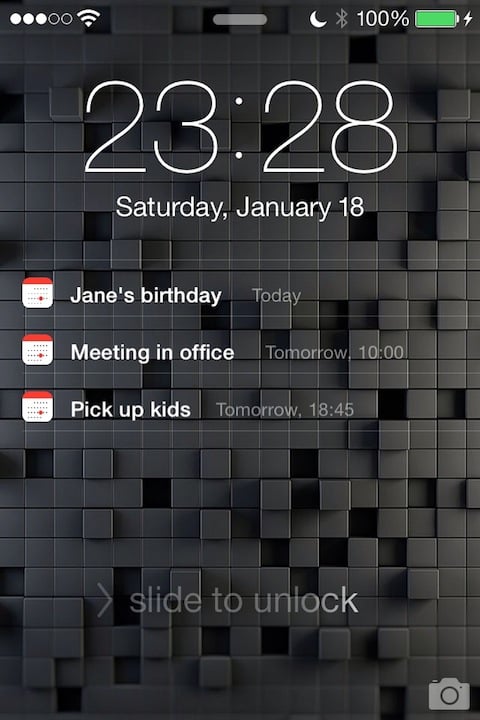 Calendar for Lockscreen este un tweak disponibil din cursul noptii trecute in Cydia, iar prin intermediul sau putem afisa in LockScreen informatii despre programarile setate in aplicatia Calendar a iOS 7. Practic folosind acest tweak putem viziona in LockScreen intregul program pentru ziua imediat urmatoare, notificarile fiind afisate acolo chiar si in cazul in care iOS-ul afiseaza alte alerte. Desigur ca accesarea programarilor va deschide aplicatia Calendar a iOS-ului, insa notificarile vor fi vizibile in continuare.
This tweak displays your upcoming calendar events on the lock screen, so you can easily see your schedule at a glance. The events will not disappear after unlocking or pulling Notification Center down (while other notifications, like missed calls and messages will still behave as before). Swiping right on an event will open it in Calendar app. It is possible to set the number of days ahead to display, as well as the maximum number of events. You can change the text color, size and notification icon, and disable the wallpaper blur when the notifications are present on the lockscreen.
  Tweak-ul contine un meniu de setari care permite alegerea perioadelor de afisare a mesajelor, permite modificarea dimensiunii si culorii lor, iar daca doriti puteti chiar sa dezactivati efectul de blur al wallpaper-urilor afisate in LockScreen. Calendar for Lockscreen este disponibil la pretul de 2$ in repo-ul BigBoss al Cydia.