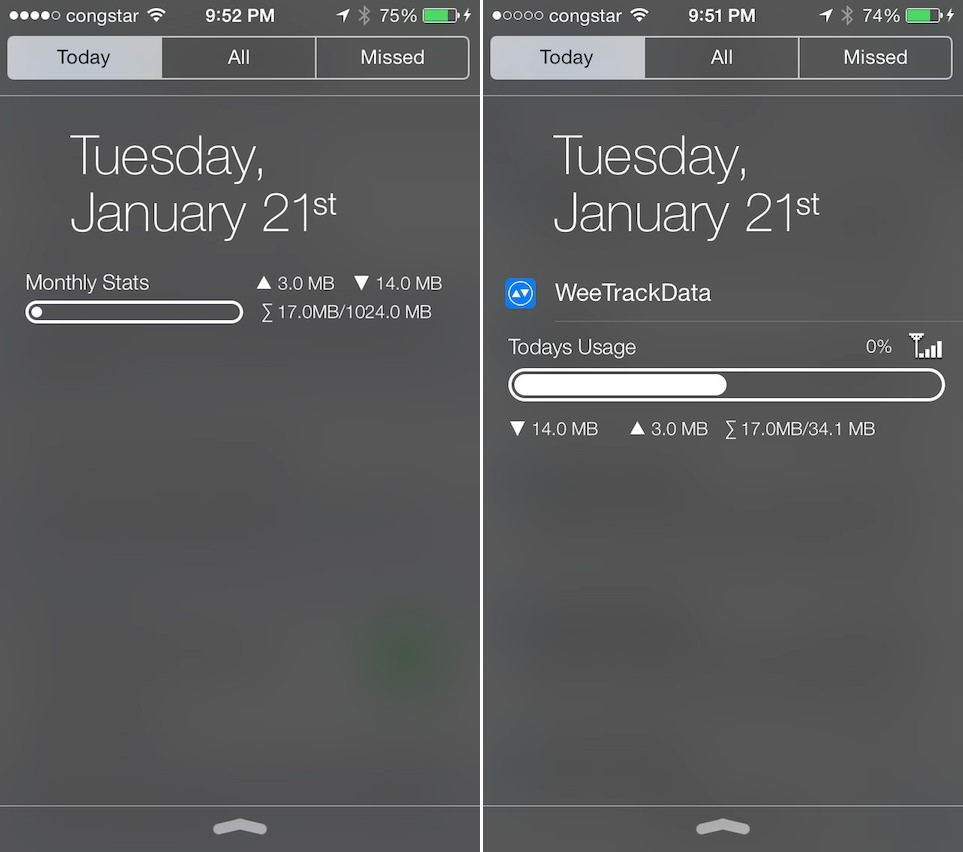 WeeTrackData7 for Notification Center este un tweak pentru iOS 7 lansat in cursul noptii trecute in Cydia, iar cu ajutorul sau puteti contoriza in Notifications Center traficul de date facut folosind iDevice-ul tau. Mai exact, tweak-ul contorizeaza intregul trafic de date generat folosind iDevice-urile noastre si ni-l afiseaza prin intermediul unui widget afisat in Notifications Center, el permitandu-ne in acelasi timp sa stabilim o limita de MB/GB pe care o putem consuma, un slider aratandu-ne cat am consumat din ea.
WeeTrackData7 is the easiest tool to keep track of your cellular data usage. You can access all the necessary statistics about your data transfers right from the iOS 7 Notification Center!  WeeTrackData7 is especially made for customers with limited data volumes, so you can set up a monthly limit and the day of your billing cycle and the App shows you live time statistics about the current month, the last 7 days or the current day in a very simple a beautiful way.
  WeeTrackData7 for Notification Center are disponibil un meniu de setari care permite stabilirea limitelor pentru widget-ul afisat in Notifications Center, iar daca sunteti interesati de el il puteti achizitiona la pretul de 2$ din repo-ul BigBoss al Cydia.