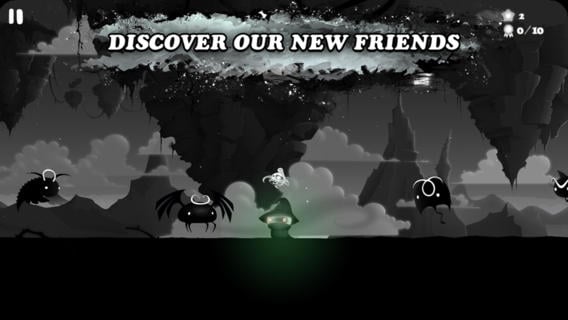 Este vineri din nou si compania Apple si-a actualizat campania aplicatia gratuita a saptamanii, prin care ofera gratuit o aplicatie pentru utilizatorii de iDevice-uri din lumea intreaga. Pentru urmatoarele 7 zile, toti cei interesati vor putea descarca din App Store aplicatia Darklings fara a plati vreun ban, aplicatia fiind premiata de catre Apple in cadrul topului celor mai bune aplicatii ale anului 2013. Pentru ca vorbim despre un joc, va spun ca in aplicatie voi veti avea rolul de a il ajuta pe Lum sa distruga creaturile numite darklings, ei furand toate stelele unei lumi care este acum acoperita de intuneric.
Darklings stole all the stars from the world which is an essence of light and brought Darkness. Join Lum to purge the Darklings. Experience unique gesture driven gameplay blended with awesome noire artwork carrying the touch based games to a whole new level. Save the stars, save the world. Darkness is coming! Darklings is an epic endless adventure through magical worlds. Lum, face of light, tries to save the world by purging the darklings and retrieve the stars. Play as the face of light, Lum, only piece of hope left on the universe, and purge all the Darklings to their pits, and begin to save the world!..

Unique Gesture Driven Gameplay
Addictive, fun and natural gameplay like you never seen before,
Draw the shapes on creatures to possess and kill them.
No D-Pads, additional controls, just you and your fingers on the stage.
Addictive, endless survival with various environments, settings
Battle in the Dark Forest, Caverns and Floating Islands, more incoming…
Never ending survival with a huge content, lots of different game sets.
Sweet artwork
Featured on top notch visual design websites,
Noire artistic style, a delicate taste to your eyes.
  Avand un motor grafic demn de anul 2014, Darklings este un joc de aventura care va poarta in lumile magice contepute de catre dezvoltatori, diverse obstacole fiind puse in calea voastra in incercarea de a readuce lumina pierduta in lumea lui Lum. Darklings este disponibila gratuit, in format universal in App Store.

Nume:
Darklings
---
Developer: MILDMANIA OYUN BI…
Universala
Categoria: Games
Descriere: *App Of The Week: Get Darklings for FREE now!*
** Get 50000 Stars with 50% discount just for this week! **
Excellence in Gameplay Award winner, Crystal Pixel
4th game of the year – SlideDB
Indie Prize Awards Best Art Finalist – Casual Connect
Best A…
Dimensiunea aplicatiei este: 84.5 Mb
---