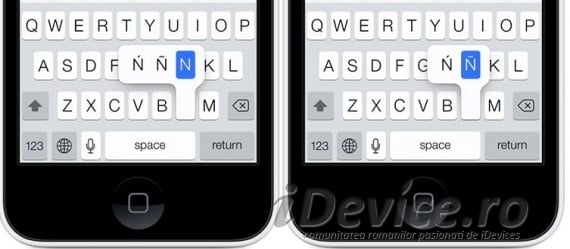 DedupeVariants este un nou tweak disponibil din cursul serii trecute in Cydia, iar cu ajutorul sau putem rezolva una dintre problemele sistemului de operare iOS 7. Mai exact, folosind acest nou tweak putem elimina butoanele care sunt afisate de doua ori in tastatura virtuala a iOS 7, iar imaginea de mai sus este cat se poate de exemplificativa pentru schimbarea oferita de catre DedupeVariants.
Normally, for the iOS keyboard, the popup list of variants shown for a key includes the key itself as the first entry. With the DedupeVariants extension installed, the popup no longer includes this duplicate entry. Thus, it is no longer necessary to slide your finger to enter the first 'non-duplicate' entry.
  Eliminarea afisarii literei corespunzatoare butonului apasat indelung de catre noi in momentul utilizarii tastaturii se face automat dupa instalarea tweak-ului, dezinstalarea sa fiind necesara pentru a dezactiva functionalitatea. DedupeVariants este disponibil GRATUIT in repo-ul BigBoss al Cydia.