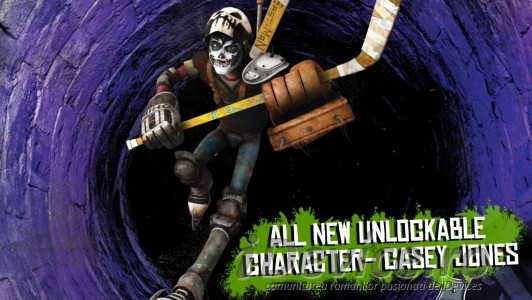 Este vineri si, ca de obicei in ultimele luni de zile, compania Apple si-a actualizat promotiile disponibile in App Store, astfel ca avem un nou titlu disponibil gratuit pana vinerea viitoare in cadrul campaniei aplicatia gratuita a saptamanii. Teenage Mutant Ninja Turtles: Rooftop Run este jocul ales pentru promovare gratuita de catre compania americana in App Store-ul sau pentru urmatoarea saptamana si vorbim despre un joc facut in baza celebrului desen animat.
Collect energy orbs to unlock exclusive weapons, gear, and boosts that will keep you one step ahead of the Kraang ship. One-touch controls combine with ninja moves and shell shocking battles for an epic gaming experience. BOOYAKASHA!

 Stomp the Foot with the all new hockey mask wearing, butt-kicking vigilante, Casey Jones.Shake off enemies while driving Casey's motorcycle, the Chopper.
  In joc noi vom avea posibilitatea de a colecta si debloca diverse tipuri de arme si obiecte pe care le putem utiliza pentru a lupta impotriva inamicilor implementati de catre dezvoltatori. In final vorbim despre un titlul antrenant care ne ofera un gameplay care ne va tine ocupati timp de cateva ore bune cu propriile iDevice-uri, asa ca merita incercat.
  Teenage Mutant Ninja Turtles: Rooftop Run este disponibil pentru DOWNLOAD GRATUIT pana saptamana viitoare in App Store.
Nume:
Teenage Mutant Ninja Turtles: Rooftop Run
---
Developer: Viacom Internatio…
Universala
Categoria: Games
Descriere: #1 App in 80 countries! You can play as Leo, Donnie, Raph, Mikey, or unlockable characters April and Casey Jones in this action packed combat runner with vehicle mode! Run, jump, fight and drive through New Yorks endless cityscape as you rid it from the F…
Dimensiunea aplicatiei este: 63.6 Mb
---