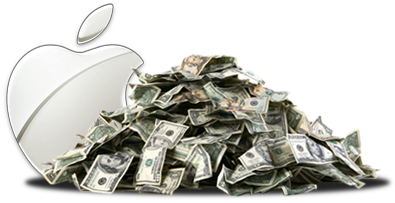 Cu doar cateva minute in urma compania Apple a anuntat rezultatele financiare pentru Q4 2014, declarand ca a vandut 39 de milioane de iPhone-uri, 12.3 milioane de tablete iPad, 5.5 milioane de Mac-uri si 2.6 milioane de iPod-uri, avand incasari de 42.1 miliarde de dolari si profit de 8.5 miliarde de dolari. Performantele financiare ale companiei Apple sunt net superioare eclor obtinute in aceeasi perioada a anului trecut, atunci ea incasand 37.5 miliarde de dolari cu profit de 7.5 miliarde de dolari.
  In aceeasi perioada a anului trecut compania Apple a vandut 35.2 milioane de terminale iPhone, 13.2 milioane de tablete iPad si 4.4 milioane de Mac-uri, deci observam o crestere sanatoasa de peste 10% in vanzarile de terminale iPhone si 20% in cele de Mac-uri. Din pacate tabletele iPad ale companiei Apple sufera in continuare de scaderi in vanzari pe fondul unei scaderi a popularitatii de tablete, iar recent lansatele iPad Air 2 si iPad Mini 3 au sanse mici sa rezolve problema companiei.
  iPhone 6 si iPhone 6 Plus au contribuit serios totusi la cresterea vanzarilor de terminale iPhone, ele reprezentand cel putin o treime din vanzarile totale de iPhone-uri din ultimele doua saptamani ale Q4 2014. Apple va prezenta in detaliu toate aceste informatii in cadrul unei conferinte audio care va incepe in 10 minute,
Apple Reports Fourth Quarter Results

Strong iPhone, Mac & App Store Sales Drive Record September Quarter Revenue & Earnings

CUPERTINO, California—October 20, 2014—Apple® today announced financial results for its fiscal 2014 fourth quarter ended September 27, 2014. The Company posted quarterly revenue of $42.1 billion and quarterly net profit of $8.5 billion, or $1.42 per diluted share. These results compare to revenue of $37.5 billion and net profit of $7.5 billion, or $1.18 per diluted share, in the year-ago quarter. Gross margin was 38 percent compared to 37 percent in the year-ago quarter. International sales accounted for 60 percent of the quarter's revenue.

Apple's board of directors has declared a cash dividend of $.47 per share of the Company's common stock. The dividend is payable on November 13, 2014, to shareholders of record as of the close of business on November 10, 2014.

"Our fiscal 2014 was one for the record books, including the biggest iPhone launch ever with iPhone 6 and iPhone 6 Plus," said Tim Cook, Apple's CEO. "With amazing innovations in our new iPhones, iPads and Macs, as well as iOS 8 and OS X Yosemite, we are heading into the holidays with Apple's strongest product lineup ever. We are also incredibly excited about Apple Watch and other great products and services in the pipeline for 2015." 

"Our strong business performance drove EPS growth of 20 percent and a record $13.3 billion in cash flow from operations in the September quarter," said Luca Maestri, Apple's CFO. "We continued to execute aggressively against our capital return program, spending over $20 billion in the quarter and bringing cumulative returns to $94 billion."

Apple is providing the following guidance for its fiscal 2015 first quarter:

revenue between $63.5 billion and $66.5 billion
gross margin between 37.5 percent and 38.5 percent
operating expenses between $5.4 billion and $5.5 billion
other income/(expense) of $325 million
tax rate of 26.5 percent

Apple will provide live streaming of its Q4 2014 financial results conference call beginning at 2:00 p.m. PDT on October 20, 2014 at www.apple.com/quicktime/qtv/earningsq414. This webcast will also be available for replay for approximately two weeks thereafter.