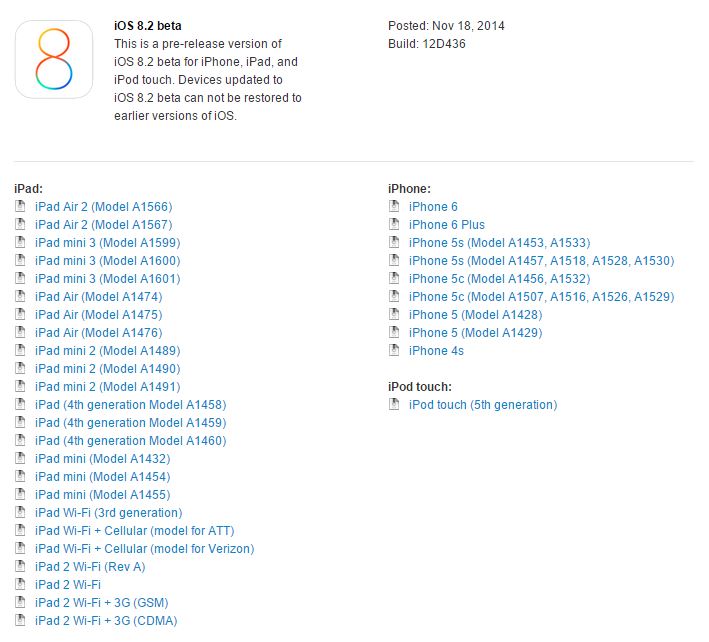 iOS 8.2 a fost lansat in cursul acestei seri de catre compania Apple pentru dezvoltatorii de aplicatii pentru platforma iOS, noua versiune a sistemului de operare fiind disponibila pentru iPhone, iPad si iPod Touch. Lansarea acestei actualizari este facuta in ideea de a oferi dezvoltatorilor de aplicatii posibilitatea de a putea testa noua versiune a sistemului de operare cu aplicatii ce pot fi produse folosind noul Xcode 6.2. Aceasta versiune a XCode contine WatchKit, un SDK special ce permite dezvoltarea de aplicatii pentru Apple Watch, astfel ca dezvoltatorii isi pot pregati titlurile in vederea lansarii noului produs Apple.
  iOS 8.2 nu aduce vreo noutate notabila pentru iDevice-urile noastre, ci doar functi ilegate de WatchKit sau de OS X, deci nu este necesar sa il instalati deocamdata.
iOS 8.2 changelog
Notes and Known Issues

The following issues relate to using iOS SDK 8.2 to develop code.
Wi-Fi Calling (T-Mobile US only)