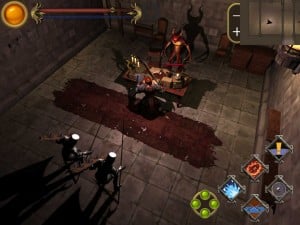 The Barbarian este un nou RPG pentru iPhone si iPad lansat in cursul zilelor trecute in App Store pentru terminalele noastre, el oferindu-ne un gameplay extrem de interesant pentru un titlu de acest gen disponibil in magazinul companiei americane. Conform descrierii, The Barbarian este un RPG top down care a fost conceput special pentru terminale mobile, deci intregul sau sistem de control a fost special gandit pentru a functiona cat se poate de bine pe ecranele tactile.
The Barbarian are in spate o lume imersiva deschisa care, conform dezvoltatorilor, ne permite sa rejucam titlul ori de cate ori dorim, deciziile luate de catre noi pe parcursul actiunii schimband evolutia in joc. Acest lucru a fost posibil deoarece, conform dezvoltatorilor, titlul ofera un motor grafic si un gameplay similare unui joc pentru console, deci experienta ar trebui sa fie una grozava din toate punctele de vedere.
The Barbarian is a Top Down Action RPG built for mobile. Intuitive controls allow for enjoyable game play. The open world makes for a long, re-playable game based entirely on the skills and spells you choose to learn. The Barbarian features over 100 enemy types and thousands of potential weapons and armor as well a skill and class system that changes how the game can be played. This is a real, complete game, a console-style game, on mobile!
The Barbarian ne pune in fata nu mai putin de 100 de tipuri de inamici cu mii de posibile arme care pot fi utilizate, 9 harti "imense" fiind create pentru a fi explorate in aproximativ 20 de ore de gameplay. Dupa cum probabil va imaginati deja, jocul ofera posibilitatea de a invata skill-uri si diverse vraji, partea interesanta fiind ca jocul permite salvarea sesiunilor pe multiple terminale pentru a oferi posibilitatea unui numar mai mare de jucator sa participe la actiune.
Open world play with 9 huge maps
Estimated 20+ hours of gameplay
Massively re-playable
Skills & Spells allow players to specialize
Rich, masterfully composed score
Quality Settings allows for play on all 1GB+ iOS devices
Multiple save games allow for multiple players on one device
The Barbarian este un joc atat de complex incat el necesita minim 1 GB RAM pe iPhone, iPad sau iPod Touch-urile noastre, astfel ca nu il cumparati daca stiti ca terminalul vostru nu are componente suficient de puternice. The Barbarian este disponibil pentru DESCARCARE, in format universal, din App Store.