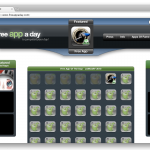 FreeAppADay este un proiect asemanator celui lansat de Apple in preajma sarbatorilor dar care acum s-a terminat, 12 Days of Christmas, ambele avand drept scop oferirea de aplicatii gratuite utilizatorilor de iPhone/iPod Touch, singura diferenta fiind ca Apple a gestionat promotia prin intermediul unei aplicatii care oferea PUSH notifications in legatura cu toate gratuitatile din AppStore iar FreeAppADay este organizat sub forma unui site.
Proiectul acesta reuneste firme precum : Blacksmith Games, ICS Mobile, OpenFeint si TapJoy, toate nume mari in cadrul comunitatii iPhone, toate firme care vor oferi de pe data de 18 ianuarie cate o aplicatie(si jocuri) gratuita in fiecare zi. Ceea ce este foarte interesant in legatura cu acest site este faptul ca dupa anuntul celor care il conduc, va fi activ 1 an de zile desi vad ca, calendarul lor se opreste la data de 1 Februarie. Oricum ar fi in zilele ce vor urma vom beneficia de aplicatii gratuite si eu voi incerca sa va tin la curent cu toate.
La ora scrierii acestui articol aplicatia gratuita era Navy Patrol Coastal Defense ( Full ).
Iata cateva features :
Introducing ICS Mobile's Breakthrough AWS™ Realtime 3D Fluid Simulation Engine
** Fully Integrated iPod Controls.
** 3Warfare Styles:
√ Sea Level . √ Undersea . √ Aerial
**15 Unique Specials Incl:
√ Touch-Controlled Satellite Laser Attack . √ Accelerometer-Enabled "Storm" Special . √ Long Range Missile Barrage . √ Tsunami Wave Special . √ Bomber delivered Nuclear Strike Special
**Dynamic AI Pathfinding System:
√ Enemy Ships dynamically adjust their path based on your turret placement adjustments
** 6 Unique Upgradable Offensive Turrets:
√ Fighter Jets Equipped Airfield . √ Large Cruisers . √ Mines . √ Machine Gun Turrets . √ Missile Turrets . √ Attack Submarines
** 8 Enemy Forces Including:
√ Submarines . √ Fighter jets Equipped Aircraft carriers . √ Dreadnoughts . √ FAS
**Turret Targeting System
√ Ability to order specific turrets to direct fire at the fastest . √ weakest or strongest enemy ships.
**Embedded "Skills Tree System"
√ Experience points awarded at specific wave cycles . √ Points can be allocated among "Defensive", "Offensive" or "Technology" categories which unlocks a variety of unique specials.
** 2 Fingers Pinch Zoom & 2 Finger tap subs and battleship Turret Rotation
Este un joculet destul de interesant, pusesem ochii de ceva vreme pe el si iata ca acum il am, si free pe deasupra.