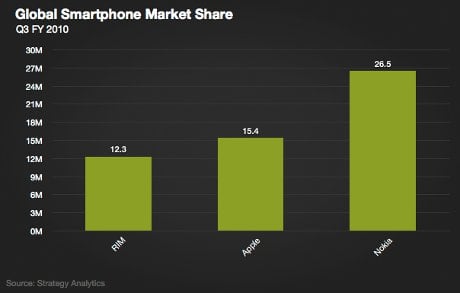 In al patrulea semestru ala acestui an Apple a vandut 15.4 milioane de terminale iPhone, conform cifrelor oficiale furnizate de companie, reusind sa depaseasca RIM care a vandut doar 12.3 smartphone-uri BlackBerry. Pentru prima oara in istoria sa Apple depaseste RIM la nivelul de produse vandute intr-un semestru fiscal si se apropie incet dar sigur de Nokia care a vandut 26.5 milioane de terminale mobile. Apple a avut o crestere spectaculoasa dupa lansarea terminalului iPhone 4 si singurul lucru care i-a impiedicat sa aiba vanzari mult mai mari a fost problema legata de disponibilitatea terminalului.
"It wasn't really a terrible loss for RIM, though, as the entire smartphone market grew 78 percent overall," explains Darrell Etherington at Gigaom. "And though Apple did surpass RIM in sales volume (and seems poised to ship even more in the future, since supply constraints provided a choke point in 2010), it still has a long way to go before it approaches Nokia, the reigning king of the smartphone hill."
Desi Apple este doar pe locul 2 in ceea ce priveste vanzarile de smartphone-uri la nivel globat, cand vine vorba de profit compania ia locul 1 cu usurinta chiar daca Nokia a vandut de aproape 2 ori mai multe smartphone-uri. Apple reuseste sa obtina profituri imense din linia sa de terminale iPhone si asta se datoreaza in primul rand preturilor exagerate dar si a cererii foarte mari.