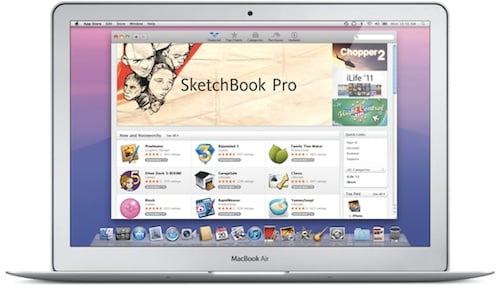 Apple a lansat Mac AppStore la inceputul acestui an si se pare ca magazinul virtual de aplicatii al celor de la Apple ar putea fi folosit pentru lansarea sistemului de operare Mac OS X. Da, Apple intentioneaza sa includa Mac OS X Lion in Mac AppStore de unde cei interesati il vor putea cumpara, descarca si instala foarte simplu si usor. Apple incearca incet incet sa renunte DVD-urile de instalare a sistemului de operare preferand sa ofere totul direct prin internet reducand si costurile de productie.
The Mac App Store, available to all users running the most recent version of Mac OS X 10.6 Snow Leopard, will become the de facto method for obtaining the Lion upgrade, people familiar with the matter have revealed. Users will be able to upgrade instantly without the need for physical media by purchasing Lion through the Mac App Store.
Desigur ca toate persoanele care au o versiune a Mac OS X incompatibila cu Mac AppStore vor putea achizitiona Mac OS X Lion si pe suport fizic. Apple a inceput miscarea aceasta de trecere la suport online inca de acum cateva saptamani cand a scos din magazinele proprii o parte dintre discurile cu anumite aplicatii software plus pachetele de instalare pentru MobileMe. Din punctul meu de vedere e logica oferirea Mac OS X Lion prin Mac AppStore deoarece ar oferi tututor celor interesati un mediu cunoscut si simplu de utilizat din care ar putea cumpara sistemul de operare.