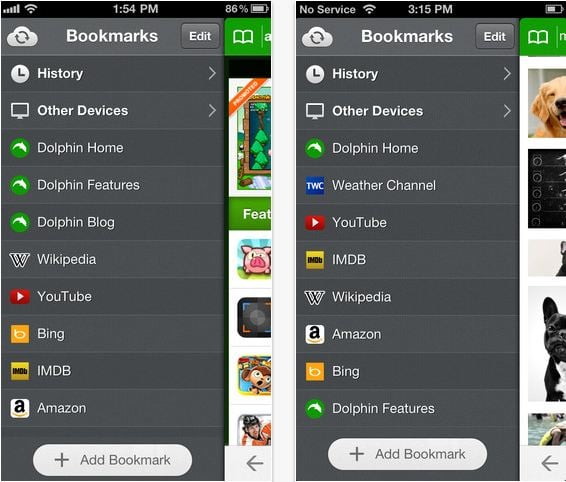 Dolphin Browser este unul dintre putinele browsere din App Store care este capabil sa inteleaga gesturile multitouch ale utilizatorilor si sa le transforme in actiuni. Aplicatia a fost lansata acum cateva luni de zile, iar dezvoltatorii sai au actualizat-o constant implementand functii noi si rezolvand bugurile existente. In aceasta idee a fost lansata versiunea 6.2 care aduce doar cateva noutati nu foarte importante, insa relativ utile pentru utilizatori :
Drag and Drop: Easily customize your speed dial
Tab Sync: Option to remove synced devices from other device list
Gesture: Now just click the "+" button to create a new gesture easily
Tab: Jump to home page when you close your last open tab in Tab bar
Updates: Automatic checking for updates
Various stability and performance improvemen
Dolphin Browser este disponibil gratuit in doua versiuni in App Store, una pentru iPhone/iPod Touch si una pentru iPad.
---
Numele:
Dolphin Browser
---
Developer: MOBOTAP INC.
Categoria: Productivity
Descriere: Description:
Download Dolphin for the best iPhone web browser experience. Dolphin's free iPhone browser has tons of exclusive features.
Dolphin Browser is the FASTEST, EASIEST, most FUN and BEST iPhone bro…
Dimensiunea aplicatiei este: 10.5 Mb
---
Nume:
Dolphin Browser for iPad
---
Developer: MOBOTAP INC.
 iPad Only
Categoria: Productivity
Descriere: Description:
Download Dolphin for the best iPad web browser experience. Dolphin's free iPad browser has tons of exclusive features.
Dolphin Browser is the FASTEST, EASIEST, most FUN and BEST iPad mobile browser on the market. Download our FREE iPad brows…
Dimensiunea aplicatiei este: 8.5 Mb
---