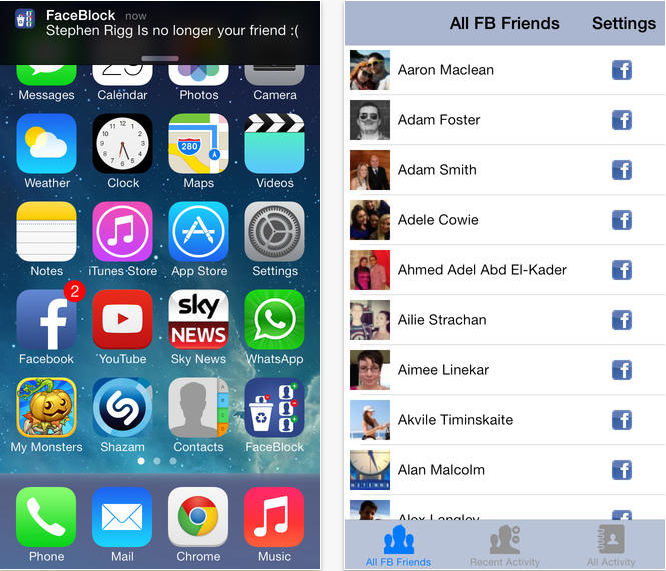 FaceBlock Pro este o aplicatie lansata in cursul acestei nopti in App Store, iar ea este perfecta pentru cei care doresc sa stie tot timpul cine decide sa ii stearga din lista de prieteni Facebook. Aplicatia este conceputa special pentru a monitoriza API-urile Facebook si a te alerta in momentul in care o persoana decide sa iti dea unfriend, aplicatia fiind capabila sa trimita inclusiv notificari push in legatura cu aceste actiuni. Aplicatia ofera un log al tuturor prietenilor care v-au sters din lista lor in ultimele 24 de ore, dar si o lista a tuturor celor care v-au sters din momentul instalarii aplicatiei.
FaceBlock Pro alerts you and even tells you who has deleted you as a friend. FaceBlock Pro even alerts you when this happens via Notification Center – so you'll always be in the know! Kool eh? FaceBlock Pro needs to be open on your device and running in the background to be able to notify you of a friend removal. FaceBlock Pro is coded using Apple's latest SDK and runs perfectly on any IOS 7.0 and greater iPhone or iPod.

FaceBlock Pro Features:

View all your Facebook friends in a list.
near REALTIME alerts when you have been unfriended.
Recent Activity of friends that have unfriended you in the last 24 hours.
History of all friends that have unfriended you since the app was installed.
Total Number of Facebook friends you currently have
Options to clear "Recent History" and "All History"
Options to share this app on Facebook and Twitter.
  Pentru ca aplicatia sa va poata trimite notificari este necesar ca ea sa functioneze in background si nu va poate spune cine v-a sters inainte ca ea sa fie instalata. FaceBlock Pro este disponibila in App Store intr-un format compatibil cu iPhone si iPod Touch.

Numele:
FaceBlock Pro
---
Developer: Mark Mckie
Categoria: Social Networking
Descriere: One of the all time best selling apps on "the other Mobile Platform" finally comes to IOS.
Exclusive IOS "Pro" edition, features numerous exclusive and previously unreleased features.
FaceBlock Pro is a …
Dimensiunea aplicatiei este: 2.4 Mb
---