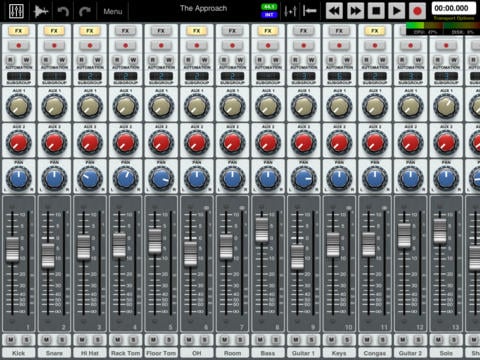 Auria este o aplicatie disponibila in App Store-ul companiei Apple de ceva timp, iar ea este perfecta pentru profesionistii care inregistreaza si modifica feed-uri audio folosindu-si tabletele iPad. Aplicatia permite inregistrarea audio a pana la 48 de track-uri digitale si permite redarea simultana a acestora in format stereo sau mono. Mai mult decat atat, aplicatia inregistreaza continut audio in format de 24 biti, are un dashboard complex in care puteti administra toate aspectele inregistrarii sau redarii, are un mixing engine cu suport pentru 64 de biti, are Midi Sync support, posibilitatea de a exporta/importa fisiere AAf si multe altele.
Auria – the 48-track digital audio recording system for iPad. The mobile DAW you've been dreaming of has arrived. Auria is a 48-track digital recording system designed from the ground up for the iPad. With professional-level features like AAF import/export, and optional third-party plugin support from names like PSPaudioware, Overloud, Fab Filter and Drumagog, Auria clearly sets a new standard for mobile recording.

• 48 tracks of simultaneous playback of stereo or mono files. (24 tracks on iPad 1)
• Up to 24 tracks of simultaneous recording when used with compatible USB audio interfaces (Camera Connection Kit required)
• 24-bit recording
• Vintage-inspired ChannelStrip on every channel by PSPAudioware includes Expander, Multiband EQ and Compressor
• MasterStrip on all subgroup and master channels featuring PSPAudioware BussPressor, EQ and Mastering Limiter
• 64 bit double-precision floating point mixing engine
• Third party plugin support available via in-app purchase
• MIDI Sync support with MTC Chase, MIDI Clock and MMC
• MIDI Remote Control (Mackie MCU and HUI protocol)
• Supports sample rates of 44.1KHz, 48KHz and 96KHz, at 24 bits (iPad 1 only 44.1KHz and 48KHz)
• AAF import and export allows transferring complete sessions between popular DAWs like Logic, Pro Tools, Nuendo, Samplitude and others
• Convolution reverb plugin with included IR library by MoReVoX
• ClassicVerb reverb plugin included
• StereoDelay and StereoChorus plugins included
• 8 Assignable subgroups and 2 aux sends
• Time Stretching using Dirac 3 Pro technology
• Real-time audio scrubbing
• Tempo sync and side chain support for plug-ins
• Powerful waveform editor with features like cut/copy/paste, crossfade, duplicate, separate, gain, normalize, dc offset, reverse, and more
• Flexible snapping tools allow snapping to events, cursor, bars, beats and more
• DropBox, SoundCloud and Audio Copy/Paste support
• Inter-app Audio support (IAA)
• Audiobus support
• Track freeze for minimizing CPU usage
• Full automation support on all controls with graphical editing
• True 100mm faders when used in Portrait Mode
• Optional video import feature allows sample accurate sync of video to an Auria project
• Timeline ruler options include minutes:seconds, bars:beats, samples and SMPTE time
• Auto-punch mode
• WIST support for wireless syncing of other compatible music apps
• AuriaLink allows two iPads running Auria to play and record in sync, allowing for 96 tracks of playback and 48 tracks of recording
• Full delay compensation on all tracks, subgroups, and aux sends
• Adjustable metering modes, including pre or post fader, RMS and peak
• Adjustable pan laws
• Sample accurate loop function
• Automatic sample rate conversion
• Built-in metronome
  Auria este disponibila cu 50% reducere in perioada urmatoare si poate fi utilizata doar pe tabletele iPad.
Nume:
Auria
---
Developer: WaveMachine Labs,…
 iPad Only
Categoria: Music
Descriere: Auria is on sale for 50% off today!
Auria – the 48-track digital audio recording system for iPad.
"This is the first mobile mixing (AND recording AND post production) app that I've ever used that is truly professional. Just Wow !" – David Kahne (Grammy…
Dimensiunea aplicatiei este: 278.9 Mb
---