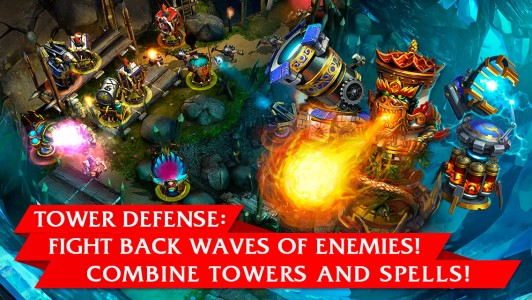 Daca va aflati in cautarea unui tower defense pe care sa il jucati pe platforma iOS a celor de la Apple, atunci poate veti fi interesati de Defenders, un nou joc de acest tip lansat in cursul acestor zile in App Store. Conform dezvoltatorilor sai, jocul combina stilul clasic al tower defense-urilor cu cel al card game-urilor, astfel ca voi veti putea creste puterea turnurilor voastre si le veti putea adauga puteri noi prin simpla colectionare a elementelor oferite de catre monstrii distrusi.
Prime World: Defenders combines classic tower defense gameplay with collectible card game elements. Your towers, your spells and your traps are all magical cards that you can collect and upgrade. Earning random sets of cards after each battle allows each player to create unique and exciting strategies!  Freeze, burn, poison, explode and slash countless enemies attempting to stop you from gathering artifacts from the old kingdom. Choose your cards carefully and play them strategically – there will be heavy resistance along the way. Battle everything from small mutated fungi to powerful giant goblins and nagas! In addition to the story-driven single-player campaign in Prime World: Defenders, each players' experience is unique thanks to custom generated missions!
  Jocul are nu mai putin de 20 de turnuri si inca 20 de nivele de upgrade, are 36 de tipuri de monstri si 23 de misiuni cu nivele speciale in care veti intalni cei mai puternici bossi, deci veti avea parte de un gameplay cat se poate de interesant. Defenders este disponibil in format universal in App Store.
Nume:
Defenders
---
Developer: NIVAL, INC.
Universala
Categoria: Games
Descriere: Defenders is now available on iOS! Fight off hordes of evil mutants created by a cataclysmic event in Nivals new tower defense meets collectible card game, Defenders.
"Must play for any tower defense enthusiast."
Daniel Tack, Forbes.com
"Nival has n…
Dimensiunea aplicatiei este: 414.1 Mb
---