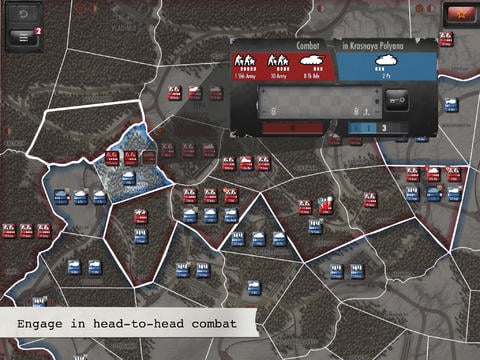 Drive on Moscow: War in the Snow este un joc lansat in cursul noptii trecute in App Store-ul companiei Apple, iar el ne da posibilitatea de a participa la incercarea esuata a germanilor de a invada Rusia in cel de-al doilea razboi mondial. Rolul vostru in jocul Drive on Moscow: War in the Snow va fi de a controla armatele celor doua parti in campanii separate, obiectivul final fiind fie de a cuceri intreaga Rusie, sau de a apara tara de panzerele germane.
Drive on Moscow, a new strategy game from the award-winning makers of Battle of the Bulge, invites you to take command of the largest battle of World War II. Defend the homeland as the Soviets, or lead a bold push to seize the Russian capital as the Axis. 

As commander you will lead your troops across a detailed campaign map, capturing territory and planning strategies. You must overcome your opponent, vast distances, and extreme weather to achieve victory. Featuring turn-based gameplay and an award-winning UI design, Drive on Moscow is built from the ground up for iPad. Play online, face-to-face or against challenging AI opponents. With accessible rules, Drive on Moscow is a great wargame experience for casual and veteran players alike.
  Avand la indemana puternicele armate ale celor doua tari, miscarile strategice vor face diferenta dintre victorie si esec, insa stim cu totii ce s-a intamplat in realitate. Drive on Moscow: War in the Snow ne pune la dispozitie module campanie single player cu leaderboard-uri si tutoriale pentru a ne controla armatele, jocul fiind disponibil la PRET REDUS in App Store intr-o versiune pentru iPad.

Nume:
Drive on Moscow: War in the Snow
---
Developer: Shenandoah Studio…
Universala
Categoria: Games
Descriere: Drive on Moscow is a triumph, a game as sweeping as the campaign it seeks to simulate. – Gamezebo
Drive on Moscow: War in the Snow, a new strategy game from the award-winning makers of Battle of the Bulge, invites you to take command of the pivotal batt…
Dimensiunea aplicatiei este: 390.6 Mb
---