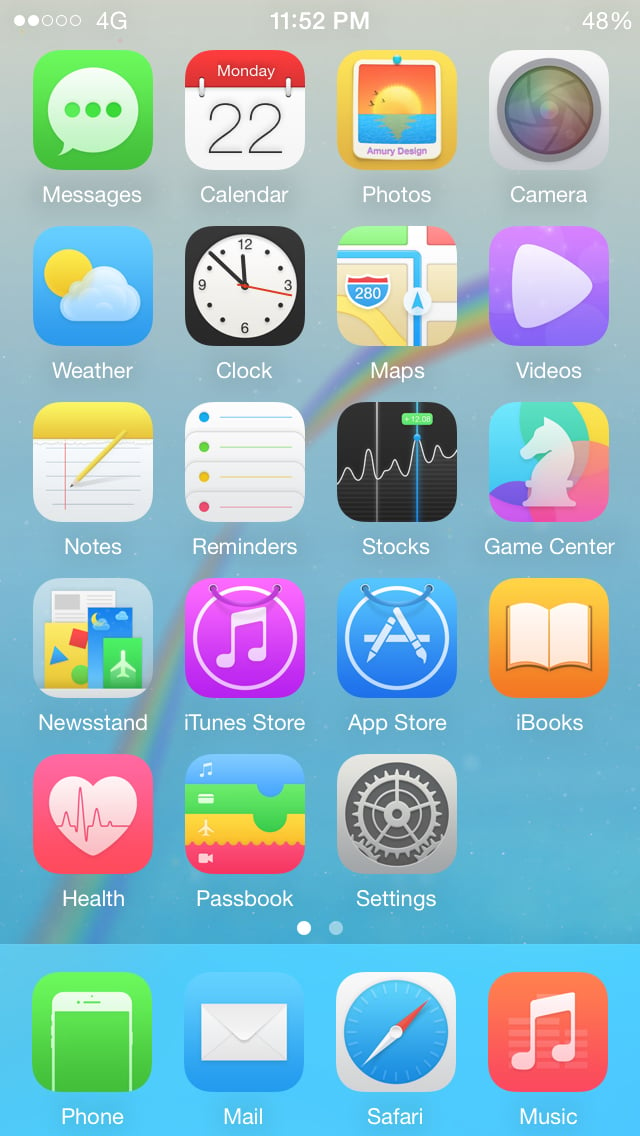 Amury este o noua tema lansata pentru iPhone si iPod Touch-urile care ruleaza iOS 8, iar dupa cum puteti vedea din imaginea de mai sus, ea aduce putina culoare pentru interfata terminalelor noastre. Conform dezvoltatorului sau, tema a fost gandita pentru a afisa detalii cat se poate de clare pe ecranele terminalelor noastre, modificand inclusiv diverse elemente din interfata sistemului de operare.
  Amury are disponibile peste 320 de iconite pentru aplicatiile instalate in terminalele noastre, iconite interne pentru aplicatia Configurari, iconite alternative pentru aplicatii, dar si usori modificari pentru interfata unor aplicatii. Mai mult decat atat, tema are sunete customizate, wallpaper-uri speciale si va oferi mult mai multe alte optiuni in viitorul apropiat.
Amury, a promising theme that has been designed with subtle depth and detail in mind, all while maintaining great familiarity with stock iOS. Once you start using Amury, going back won't be easy. For more information, please see the screenshots.

Features: 320+ Icons, Settings Icons, Alternative Icons, Minor In-app theming, User Interface, UI Sounds, Control Center, Stunning Wallpapers, More to come.</p><p>Don't forget to check out my other themes: Wround iOS 8 Complete, Wround iOS 8 Free, Wround iOS 7 Complete, Wround iOS 7 Free, Prisma Complete, Prisma Lite.
  Amury este disponibila pentru descarcare in repo-ul ZodTTD & MacCiti al Cydia.