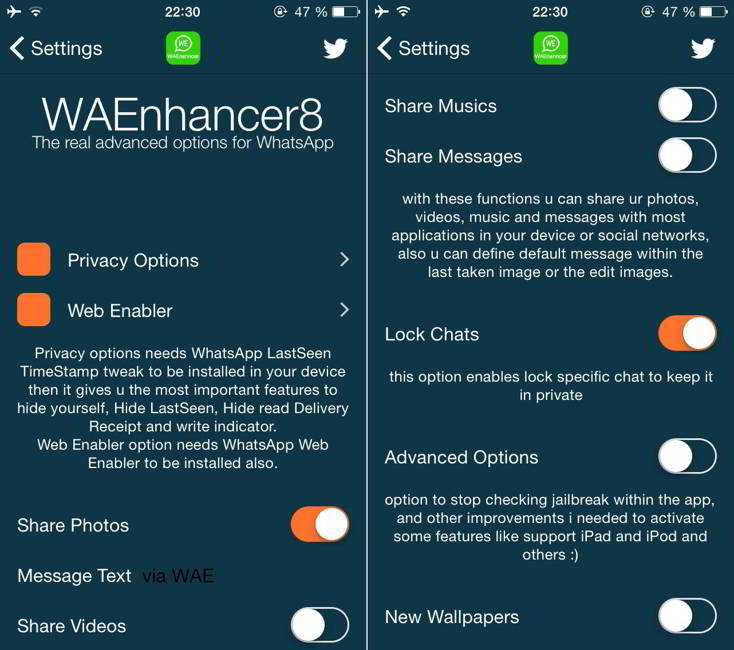 WAEnhancer8 este un tweak lansat in cursul acestei seri in Cydia, iar prin intermediul sau putem implementa in aplicatia WhatsApp Messenger din App Store o serie de functii cat se poate de utile. Conform descrierii concepute de catre dezvoltatori, WAEnhancer8 ofera posibilitatea de a: trimitere fisiere multimedia pana la o limita maxima de 2 GB, scrie statusuri de pana la 2500 caractere, scrie mesaje de pana la 300 de caractere in broadcast-uri, trimite un numar infinit de poze, activa/dezactiva functia Last Seen oricand, partaja melodii, schimba poza de profil dupa bunul plac si multe altele.
Privacy Options: Hide your last seen ( due to WhatsApp rules ) u won't be able to see others lastseen

Hide the readMark content (hide blue mark for media and messages) (this function have an Notifications solution) but it works once the notification repeat (once) if u faced a random repeat close the WhatsApp from background to make it repeat the Notifications  Hide the type indicator (no one can see that u are typing

FlipSwitchs: There are 3 flipswitchs for lastseen, readmark and type indicator
Web Enabler: enables the native hidden web service on the iOS
Share Options

Share Photos: add an option to share your recieved images to social apps or apps existe in your device also add two options 1st to send the last taken image the 2nd let u use all of the powerfull of Rendarya (iOS8) to edit the image before sending it, also there are an option to change the caption will be send with the last taken image or the filtered image
Share Videos: add an option to share your recieved videos to social apps or apps existe in your device
Share Musics: share your recieved sounds to other apps, or even send an sound file from your Music Library
Share Messages: share any message incoming or outgoing to other apps, u can also tweet them directly without leaving the WhatsApp application, or read those messages with an speech option

Lock Chats: you can lock specific chat to avoid untrusted people to see what are u saying with others. to close chats activate this option and you will see a new cell inside your WhatsAp settings called Locked Chats click on the + option to add anyone to lock it's chat
Advanced Options: some core functions i add and it should be ON always, and it has anti jailbreak check, supports iPad or iPod also it gives u the to use an old version from WhatsApp without getting the annoying update message.
Debug Menu: Add new cell inside WhatsApp's settings within the WAEnhancer8 section to show the debugs options\nthis option available only if you enabled the Advanced Options.
New Wallpapers: WhatsApp has a beautiful wallpapers integrated within it's application but unfortunately the didn't gave u the freedom to choose an external wallapaper to use, now with this option u can add external wallpapers to define inside your chats youneed just to place your image in /var/mobile/Library/WAEnhancer8/Wallpapers/ and also it have the native device wallpapers<br>to select the new wallpaper activate this option and you will see a new cell inside your WhatsAp settings called New Wallpapers
Remove Cam: remove camera button from the chatbar to avoid clicking it by mistake
Disable Reminders: with this option u will be able to disable your notification without getting the annoying reminders messages
Maxi Media: the most important part: you can forward more than 10 messages at once, send the image with full quality (requires) Advanced Options to be ON, i didn't try sending long videos but it should works also (i hope) if there are an issue just email me, if u have enabled this option and u tried to change your profile image, it will take several minutes due to it's upload the full quality of the image.
Select All: select all users once while sending broadcast
Delete All Broadcast Once: now with a new button i added inside the broadcasts list u will be able to delete all broadcasts once
Tap To Record: Now you can Tap To record voice message and another tap to send also you can to and slide to delete the voice message
Font Size: now u can change the WhatsApp font size with the slider in the settings the option Enable FontSize should be enable to change the fonts size with the selected value (min:10 maxi:150)
Text Colors: Options to change both Text Messages Colors or URL Colors with a new ColorPicker
UI Colors: options to change the UserInterface colors<br>Change NavigationBar and it's texts colors BottonBar and it's icons colors, also u can change the unselected icons colors
Preference Options: Change the prefs background colors Change the switchs and other items colors or reset the preferences values to the defaults
  Practic WAEnhancer8 dezactiveaza un numar mare de limitari impuse de catre dezvoltatorii WhatsApp Messenger, in timp ce implementeaza o suita de functii cu adevarat utile, tweak-ul fiind disponibil la pretul de 2$ in repo-ul BigBoss al Cydia.