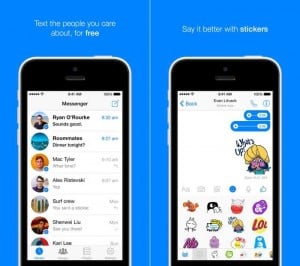 Facebook Messenger, aplicația lansată de către compania Facebook în App Store pentru a ne forța să o utilizăm pentr a purta discuții cu prietenii activi pe rețeaua sa de socializare, a fost actualizat în cursul acestei seri. In cursul noptii trecute o noua versiune a aplicatiei a fost publicata de catre compania Facebook si dupa cum probabil va imaginati deja, ea aduce pentru noi doar rezolvari ale problemelor de functionare si imbunatatirea performantelor generale in timpul utilizarii in iPhone, iPad si iPod Touch-urile Apple.
Thanks for using Messenger! We update the app around every two weeks so it continues to work great for you. We're also working on fun new features, and we're excited for you to try them out soon.
Facebook Messenger este disponibil pentru descărcare gratuită în format universal în App Store.