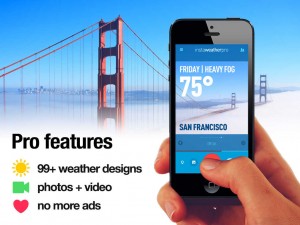 InstaWeather Pro este una dintre vechile si popularele aplicatii ale App Store, ea oferindu-ne o metoda inedita de a vizualiza informatii despre vreme, dar si de a le partaja prin intermediul retelelor de socializare. Aplicatia ne poate oferi informatii despre starea vremii in locatia in care ne aflam, iar apoi ne pune la dispozitie nu mai putin de 60 de skin-uri pe care le putem utiliza pentru a inregistra o poza cu detaliile vremii si locatia in care ne aflam, poza putand fi partajata pe orice retea de socializare.
WITH INSTAWEATHER YOU CAN SHARE THE WEATHER REPORT AND FORECAST FROM THE PLACE WHERE YOUR ARE NOW – ON TOP OF YOUR FAVOURITE PHOTO THAT YOU HAVE JUST SNAPPED WITH YOUR IPHONE. CREATE INSPIRATIONAL & INFORMATIONAL IMAGES TO SHARE QUICKLY AND EASILY. IN SECONDS YOU CAN CHECK WEATHER AND TALK WEATHER. INSTAWEATHER KNOWS WHEN YOU ARE IN CERTAIN MOMENT AND SHOW IT ON OVERLAY ADDED TO YOUR PHOTO! SO IF YOU ARE LOST SOMEWHERE JUST MAKE A PHOTO USING THIS APP AND FIND THE WAY BACK HOME. EDITABLE TEXT – ADD YOUR OWN TEXT OR COMMENT TO PHOTO CUSTOMIZED BY INSTAWEATHER? NO PROBLEM!

OVER 60 DIFFERENT SKINS. YES OVER 60 SKINS!! YOU CAN EASILY CHOOSE YOUR FAVOURITE SKIN FROM OVER 60 AVAILABLE WITH VARIOUS WEATHER DATA: FROM CURRENT TEMPERATURE AND SIMPLE INFO ABOUT THE LOCATION TO VERY DETAILED FORECAST WITH AIR PRESSURE, TEMPERATURE, RAIN, WIND POWER AND DIRECTION. 
  Mai mult decat atat, aplicatia ne permite sa utilizam poze din libraria foto ca si background, ne permite sa editam textele aplicate peste poze si asa va puteti lauda intr-un mod inedit pe orice retea de socializare. InstaWeather Pro este disponibila la PRET REDUS pentru o perioada limitata de timp.
Numele:
Instaweather Pro
---
Developer: BYSS mobile
Universala
Categoria: Weather
Descriere: Steven Sande – TUAW
First and foremost, Instaweather Pro 3.5 adds the ability to shoot short videos to demonstrate the current conditions. Imagine being at a ski area where it's a sunny, but cold day, gr…
Dimensiunea aplicatiei este: 43.3 Mb
---