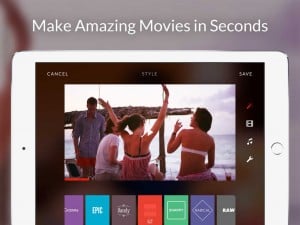 Replay Video Editor este Editor's Choice-ul acestei saptamani in App Store, compania Apple alegand sa promoveze o aplicatie care a fost premiata anul trecut drept cea mai buna aplicatie a anului 2014 chiar de catre ea.
Replay Video Editor a fost gandita in ideea de a ne permite sa editam poze sau clipuri video in colage agregate pe care le putem afisa mai apoi prietenilor indiferent ce terminal mobil sau calculator au, totul folosind o interfata intuitiva.
MAKE AMAZING VIDEOS! SUPER EASY, REALLY FAST.  ADD UP TO 200 PHOTOS/VIDEOS. 21 BEAUTIFUL VIDEO STYLES. JOIN 3M PEOPLE WHO LOVE MAKING VIDEOS WITH REPLAY, TO SHARE MEMORIES, TELL STORIES OR IMPRESS THEIR INSTAGRAM FANS. WATCH YOUR PHOTOS, VIDEOS, COME TO LIFE AS AMAZING MOVIES, WITH SPECTACULAR TRANSITIONS, SYNCED TO THE MUSIC.
  Conform descrierii facute de catre dezvoltatorul aplicatiei Replay Video Editor, aceasta ne pune la dispozitie nu mai putin de 21 de tipuri de stiluri video cu ajutorul carora putem edita rapid pana la 200 de poze sau clipuri video in timp real.
Pentru colajele foto/video realizate pum folosi muzica in ideea de a adauga muzica de fundal, iar partea cea mai interesanta este ca totul poate fi sincronizat impreuna cu muzica, inclusiv clipurile video slow-motion inregistrate cu iPhone 5S sau iPhone 6 ori iPhone 6 Plus.
VIDEO SUPER POWERS
▸ INSTANT VIDEOS – NO DELAYS
▸ 21 VIDEO STYLES – EACH WITH VARIATIONS
▸ MUSIC SYNC – PHOTOS, VIDEOS MOVE TO THE BEAT
▸ SLO-MO – 5S SLO-MO SHOTS LOOK EPIC
  Replay Video Editor suporta orice fel de format video, fie el patrat cu 16:9, iar pentru a avea creatii cat mai grozave putem aplica texte peste imagini, putem organiza totul in slide-uri si putem utiliza inclusiv caractere emoji.
Mai mult decat atat, clipurile video pot fi taiate pentru a afisa doar scenele importante, sunetele lor pot fi oprite, focalizarea poate fi schimbata, astfel ca putem avea creatii extrem de interesante.
POWER FEATURES
– ADD TEXT OVERLAYS
– ADD TEXT SLIDES
– ADD EMOJIS
– TRIM VIDEOS
– (UN)MUTE VIDEOS
– SET PHOTO FOCUS POINT
– SET MOVIE PACE
– USE YOUR OWN MUSIC
– ADD UP TO 200 PHOTOS, VIDEOS (25 ON IPHONE4)
  Replay Video Editor este disponibila pentru DESCARCARE GRATUITA in format universal in App Store.