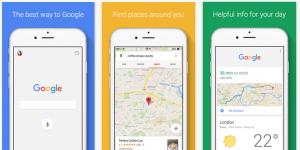 Google, aplicatia companiei Google care ne permite sa utilizam serviciul Google Now in iOS, a fost actualizata in cursul acestei seri, ea aducand cateva schimbari disponibile de ceva vreme in versiunea pentru Android a aplicatiei, asa ca probabil le veti aprecia dupa folosire.
Mai exact, acum aplicatia Google pentru iOS ne permite sa adaugam poze la review-urile localurilor favorite, ne afiseaza rezultate pentru cautarile de locatii direct in interfata sa la introducerea unei adrese si permite rularea de GIF-uri animate in cautarile pentru informatii de interes.
Add a photo or review for your favourite local places
Get map results right in the app when you search for an address
Tap and play animated GIFs in image search results
Aplicatia Google pentru iOS este disponibila pentru DOWNLOAD GRATUIT, in format universal, in App Store.