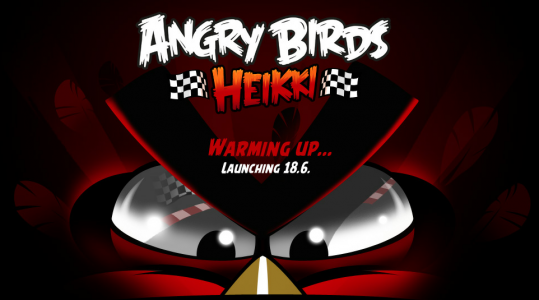 Desi cei de la Rovio au anuntat ca au achizitionat jocul Amazing Alex si ca urmeaza sa il refaca si sa il lanseze in App Store, iata ca deocamdata atentia unei parti a companiei este indreptata catre un alt proiect. Acesta reprezinta o colaborare dintre Rovio si pilotul finlandeza de Formula 1 Heikki Kovalainen, iar rezultatul final va fi Angry Birds Heikki, un nou titlu din celebra serie de jocuri, insa un titlu care ar urma sa fie disponibil doar pe web. Compania Rovio a facut un website pentru noul titlu, iar acolo avem casca unui pilot de Formula 1 care a fost special conceputa pentru a include personajul celebrului joc, insa cum va fi construit Angry Birds Heikki doar cei de la Rovio stiu.
March 15, 2012 — Espoo, Finland — Rovio Entertainment announced today their merchandising and webgame partnership with Finnish Formula 1 star Heikki Kovalainen. Kovalainen will also be sporting a brand new co-branded Angry Birds helmet, which will debut at this weekend's inaugural Formula 1 race in Melbourne, Australia. "This is a great partnership on many levels," said Heikki Kovalainen. "It's the first time that I've partnered with a gaming company, and it fits with my larger focus on partnering with unique brands. As a Finn, I'm also happy to be backing a Finnish company on a global platform. Most importantly, I'm a big Angry Birds fan!" "We're so excited to be working with Heikki on this, the first partnership of its kind in F1," said Harri Koponen, EVP Consumer Products at Rovio Entertainment. "The helmet looks amazing, and we think people are really going to enjoy the webgame and merchandise."
  Angry Birds Space s-a dovedit a fi extrem de interesant si cred ca un racing game Angry Birds ar putea fi cel putin la fel de interesant, insa numai daca va aduce elemente noi, la fel ca si "fratele" sau dezvoltat in colaborare cu NASA.