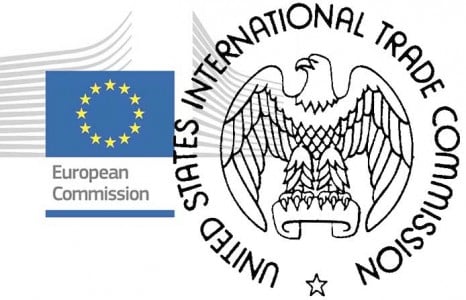 Luna trecuta Samsung a luat decizia de a retrage cateva procese intentate companiei Apple in Europa, coreenii spunand ca totul se face in interesul protejarii dreptului consumatorilor de a avea optiuni cand cumpara un terminal mobil, dar aceasta este o minciuna. Samsung si-a retras procesele deoarece Comisia Europeana urma sa o acuze oficial de incalcarea legislatiei europene antitrust prin utilizarea brevetelor FRAND in procesele intentate impotriva companiei Apple, Samsung putand fi amendata cu pana la 15 miliarde de dolari pentru actiunile sale.
  Aceasta situatie a fost adusa in discutie de catre Apple intr-o motiune depusa la o instanta americana, compania din Cupertino afirmand ca Samsung ar trebui sa isi retraga procesele sau pretentiile din procesele americane care se bazeaza pe brevete FRAND. Apple sustine ca Samsung are o strategie contradictorie deoarece in Europa sustine ca vrea sa protejeze consumatorii, dar in SUA nu face acelasi lucru, avocatii intentionand sa forteze corenii sa isi retraga procesele sau pretentiile, ori sa convinga instanta sa le respinga.
Moreover, Samsung ignores Samsung's own public statement admitting that its injunction withdrawals in Europe served the interests of consumers. This admission creates a clear and irreconcilable conflict between Samsung's statements in Europe and its statements to the ITC, as discussed in Apple's Notice. Simply put, Samsung's pursuit of exclusionary relief on declared-essential patents in this investigation is equally as harmful to American consumers as Samsung's pursuit of injunctions on declared-essential patents in Europe was harmful to European consumers. Having withdrawn its injunction requests in Europe, Samsung should now withdraw its exclusion-order request here. If it does not, Apple respectfully submits that the Commission should give the new facts set out in Apple's Notice due consideration as the Commission adjudicates the issues under review and the public interest.
  Adevarul este ca situatia din Europa a complicat extrem de mult lucrurile pentru Samsung, coreenii avand acum probleme in a utiliza brevetele FRAND in procese, dar acest lucru nu trebuia facut de la bun inceput.