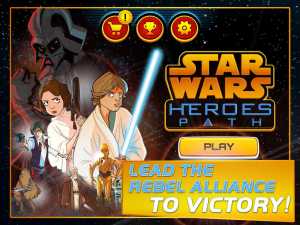 Star Wars – Heroes Path este un joc din seria Star Wars lansat in App Store pentru iPhone, iPad si iPod Touch, el aducandu-ne in postura de a prelua controlul asupra catorva dintre cele mai importante personaje din lumea Star Wars, asa cum o cunoastem.
Conform dezvoltatorilor Star Wars – Heroes Path, jocul ne ofer aposibilitatea de a ii controla pe Luke Skywalker, Han Solo, Princess Leia, Chewbacca sau Obi-Wan Kenobi printr-o serie de misiuni extrem de periculoase care ne pun la incercare inteligenta si spiritul de strategie.
Fiecare dintre personajele pe care le putem controla au disponibile o multitudine de abilitati speciale care le permit sa depaseasca fiecare misiune si sa indeplineasca fiecare obiectiv, ele putand fi imbunatatite pe parcursul gameplay-ului pentru a ne ajuta.
Lead the Rebel Alliance to victory! Guide Luke Skywalker, Han Solo, Princess Leia, Chewbacca, and Obi-Wan Kenobi through perilous puzzles that will wrack your brain and test your luck! Use the characters' special abilities as you travel from Tatooine to the Death Star, but watch out—every move can trigger enemy reactions that will change the game and your strategy in an instant! Experience A New Hope in a whole new way as thrilling motion comics keep the story of the classic adventure intertwined with play.
Conform dezvoltatorilor aplicatiei, in Star Wars – Heroes Path vom putea parcurge o recreare a Episodului V al seriei Star Wars, 6 lumi cu zeci de niveluri de a actiune fiind create pentru posesorii de iPhone, iPad si iPod Touch-uri care il vor instala.
Separat de personajele mentionate anterior vom putea activa noi personaje cu fiecare nivel parcurs si daca sunteti fanii lui R2-D2, atunci va spun de pe acum ca veti putea activa simpaticul robot pentru a va ajuta in misiunile voastre.
Enjoy an exciting interactive reimagining of Episode IV: A New Hope as you master each puzzle environment!
Test your skill in 6 exciting environments and dozens of levels.
Find multiple solutions to each level, and overcome obstacles in whatever way you like best. Earn achievements for innovative solutions!
Unlock new heroes in every chapter! Every hero has an exciting special ability, including decoy holograms, lightsabers, blasters and more!
Don't forget your back-up! Get other members of the team to help. Deploy R2-D2 to hack gates, Chewbacca for a massive attack, and more!
Ramp up from basic foes to crafty officers, moving platforms, trap doors, forcefields, and hidden intel!
Earn hero powers and hints by completing daily challenges.
Four heroes and six chapters with download, two more heroes and four more chapters plus new environments with in-app purchase!
Star Wars – Heroes Path este disponibil pentru DESCARCARE GRATUITA in format universal din App Store.