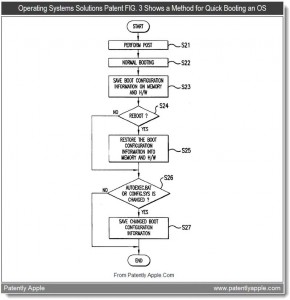 Se pare ca pentru Apple se intoarce roata pentru ca gigantul din Cupertino a fost actionat in instanta pentru incalcarea unui brevet de inventie privind bootarea rapida a calculatoarelor. Brevetul de inventie a apartinut initial companiei LG care l-a vandut catre compania americana Operating Systems Solutions care a si inaintat o cerere de chemare in judecata impotriva companiei Apple. Apple este acuzata ca a incalcat sistemul brevetat de initial de compania LG in Mac OS X si Mac-urile lansate pe piata prin implementarea unui sistem de bootare rapida asemanator sau identic, cu cel descris in brevet. Nu de putine ori s-a laudat Apple cu un timp redus de bootare a Mac-urilor si se pare ca tehnologia implementata de catre ei ar putea fi "inspirata" din brevetele altora.
The court's document on Count 1 states that "Apple sells or offers to sell within this district, computer systems, including but not limited to the MacBook Pro, that utilize the Mac OSX operating system that infringes at least claim 1 of the OSS [Operating System Solutions] Patent." A method for fast booting a computer system, comprising the steps of: A. performing a power on self test (POST) of basic input output system (BIOS) when the system is powered on or reset is requested; B. checking whether a boot configuration information including a system booting state which was created while executing a previous normal booting process exists or not; C. storing the boot configuration information from execution of the POST operation before loading a graphic interface (GUI) program, based on the checking result; and D. loading the graphic user interface (GUI) program.  
     Apple nu este nici prima companie care a implementat un sistem de fast boot in propriile calculatoare, multi producatori fac deja acest lucru si daca sistemul folosit de catre Apple incalca acest brevet atunci este posibil ca si alti producatori sa fie vizati de procese in viitor. Compania Apple a dat in judecata pana acum mai multi producatori de terminale Android pentru incalcarea unor brevete de inventie pentru iDevice-uri si iOS insa iata ca acum compania din Cupertino se vede in chemata in instanta pentru a dovedi ca nu a incalcat brevetele de inventie ale altora.