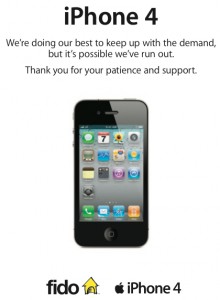 Dupa ce iPhone 4 a fost vandut in totalitate in Italia in doar doua zile de la lansare, iata ca acum si in Canada s-au vandut aproape toate terminalele iPhone 4 disponibile la operatori si la Apple Stores. Mesajul de mai sus este de pe site-ul operatorului Fido care se pare ca a ajuns "la fundul sacului" in ceea ce priveste stocul iPhone 4, insa nici operatorul Rogers nu o duce mai bine, acesta terminand stocul inca de vineri, dar promisese clientilor ca sambata va sosi un nou lot. Din pacate sambata nu a sosit stocul promis, desi mii de oameni au stat la coada in fata magazinelor Rogers, iar operatorul si-a cerut oficial scuze tuturor pentru ca i-a dezinformat in legatura cu disponibilitatea :
Hi everyone. We sincerely apologize for the inconvenience caused this past weekend as many of you expected iPhone 4 to be back in stock at our stores. In an effort to get devices available as soon as possible, we are expediting all shipments to stores outside our normal process. Unfortunately, there was a miscommunication on Friday and stock was not available as expected on Saturday.

We are trying to be as transparent as possible and provide you with timely information. Obviously, this isn't a perfect process and we appreciate your patience. Stock that was en route Friday will be arriving in some stores today. Additional inventory will be arriving throughout the week. Due to high demand and limited quantities, we strongly recommend that you call ahead to ensure that iPhones are in stock.
Se pare ca nici magazinele Apple nu au terminale iPhone 4 in stoc, desi in fata multora exista cozi lungi de oameni care asteapta sa isi achizitioneze noul terminal, insa angajatii Apple nu au putut oferi nici un fel de informatii in legatura cu data la care vor primi noi terminale. A fost foarte multa controversa in jurul terminalului iPhone 4, insa Apple continua sa il vanda mai repede decat il poate produce.