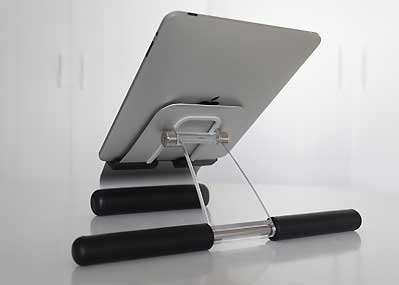 iRest este un iPad lap stand pentru tableta iPad prezentat de firma Rain Design la MacWorld 2011. Standul ne permite sa folosim tableta iPad fara a o tine in mana si partea interesanta este ca acest stand poate fi folosit pentru a tine tableta iPad atat pe suprafete fixe cat si in bratele noastre. Standul are suportul facut dintr-o spuma/dintr-un burete foarte moale care nu jeneaza utilizatorul in timp ce acesta tine standul pe brate deci ar trebui sa fie destul de comfortabil. Conceptul este interesant insa cred ca posibilitatea de a o folosi in pat este putin exagerata avand in vedere ca ar trebui sa tinem o greutate maricica in brate.
Iata cateva caracteristici ale dock-ului :
Super lightweight at only 14 ounces.
Portable. Fold down design with detachable cushions
Effortless adjustable incline. The tilt can be adjusted easily with the tension loaded hinge. Simply push the back leg to desired angle and the stand will stay in place.
Extra soft cushions. Detachable luxurious front and back cushions made from toy-safe materials for extra comfort.
Padding. Rubber pads on iRest surface to prevent unintended scratches to iPad.
Accommodates iPad with charging cable
Able to hold iPad with Apple jacket accessory on.
Desktop use: Convert to desktop use by removing front cushion.
iRest iPad lap stand costa 49.99$ si este disponibila pentr precomanda de aici.