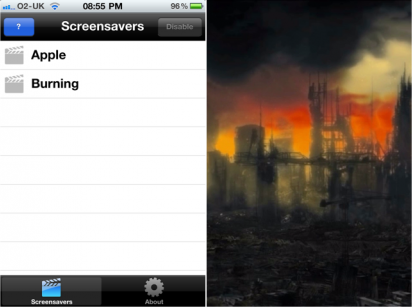 ScreenSaver este o noua aplicatie disponibila in Cydia care ne permite sa setam un "screensaver" pentru terminalul nostru. Dezvoltatorul aplicatiei numeste aceasta functie "demo mode" pentru ca permite rularea unui clip video atunci cand terminalul nostru este blocat. Aplicatia vine cu un clip video preinstalat care poate fi setat sa ruleze atunci cand blocam terminalul si ecranul ar trebui sa fie inchis. Marea problema este ca rularea acestui clip video afecteaza autonomia bateriei si nici macar dezvoltatorul nu recomanda rularea permanenta a screensaver-ului.
Aplicatia este disponibila gratuit in Cydia insa folositi-o cu masura deoarece s-ar putea sa va treziti ca ramaneti fara baterie inainte sa va dati seama.
Screensaver is a toy that will enable demo mode on the iPhone. What demo mode does it play a video when your device auto locks or resprings.

You should not leave the video running all the time as it could effect the length of your battery charge. Play around show your mates.
[youtube]http://www.youtube.com/watch?v=XBip2Io1Hiw[/youtube]