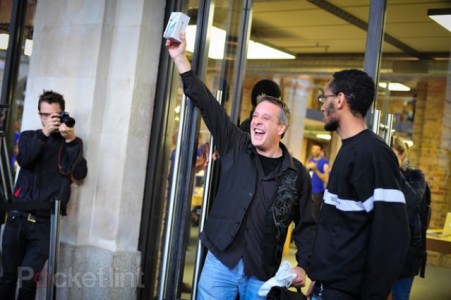 Astazi va spuneam ca in magazinul Covent Garden Store din Londra s-au vandut terminale iPhone 4S codate in locul celor decodate si totul parea a fi o problema a celor care au livrat terminalele companiei Apple. Din pacate Apple a facut o a doua mare greseala in Australia unde cei care au achizitionat un iPhone 4S online nu il vor primi astazi, asa cum spusese Apple initial, ci il vor primi ori saptamana viitoare ori dupa data de 28 octombrie. Se pare ca anumite probleme de logistica au impiedicat compania Apple sa trimita terminalele saptamana aceasta la utilizatori si ciudat este ca in magazine terminalul este totusi disponibil.
One group of customers definitely won't be receiving the iPhone 4S in a timely fashion: customers who pre-ordered through Apple's Australian online store (including me). Once it became mid-afternoon in Australia on the launch day of the iPhone 4S with my pre-order still stuck in "Preparing for Shipment" rather than having a definite delivery date, I called Apple to find out what was going on. The service rep I spoke to confirmed that Australian pre-orders have been delayed by one to two weeks compared to other territories; according to the information he gave me, Aussies who pre-ordered an iPhone 4S on October 7 should expect to wait until approximately October 21 through 28 before receiving it.
    Desi Australia este cel mai apropiat teritoriu de fabricile Foxconn in care sunt comercializate terminale iPhone 4S, iata ca pentru compania din Cupertino mai mult conteaza SUA si Europa, locatii in care primele iPhone 4S-uri au fost livrate chiar de miercuri. Pentru compania Apple aceasta eroare este mai mult decat importanta avand in vedere ca pana acum lantul de distributie a functionat fara probleme. Probabil cateva sute de mii de australieni vor fi furiosi din cauza acestei schimbari facute de compania din Cupertino dar atat timp cat SUA si Europa sunt multumite, Apple e multumita.