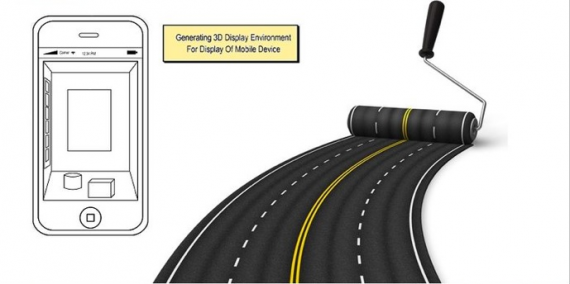 Nu am mai vorbit de ceva vreme despre un brevet de inventie a companiei Apple insa astazi am pentru voi unul interesant inregistrat pentru o interfata 3D dedicata iDevice-urilor noastre. Brevetul de inventie inregistrat de catre compania Apple descrie o noua interfata care ar fi controlata de utilizatori folosind un ecran touchscreen dar si senzorul de proximitate si giroscopul. Practic Apple ne prezinta o interfata in care utilizatorul ar putea schimba perspectiva din care sunt prezentate imaginile pe ecran si senzorii implementati in iDevice ar lucra in tandem cu touchscreen-ul pentru a permite unui utilizator sa foloseasca sistemul de operare.
Due to the limited size of the typical display on a mobile device, a 3D GUI can be difficult to navigate using conventional means, such as a finger or stylus. For example, to view different perspectives of the 3D GUI, two hands are often needed: one hand to hold the mobile device and the other hand to manipulate the GUI into a new 3D perspective. 
   Apple sustine in brevetul sau de inventie ca utilizatorii ar putea naviga prin interfata din iOS folosind doar senzorii din iDevice-uri, fara a atinge touchscreen-ul, un lucru destul de interesant insa departe de realitate, din punctul meu de vedere. Apple breveteaza multe tehnologii insa din pacate foarte putine dintre ele ajung sa fie efectiv utilizate de catre noi asa ca nu va puneti mari sperante in a o vedea pe aceasta in iOS prea curand.